How to Clean and Oil your Serger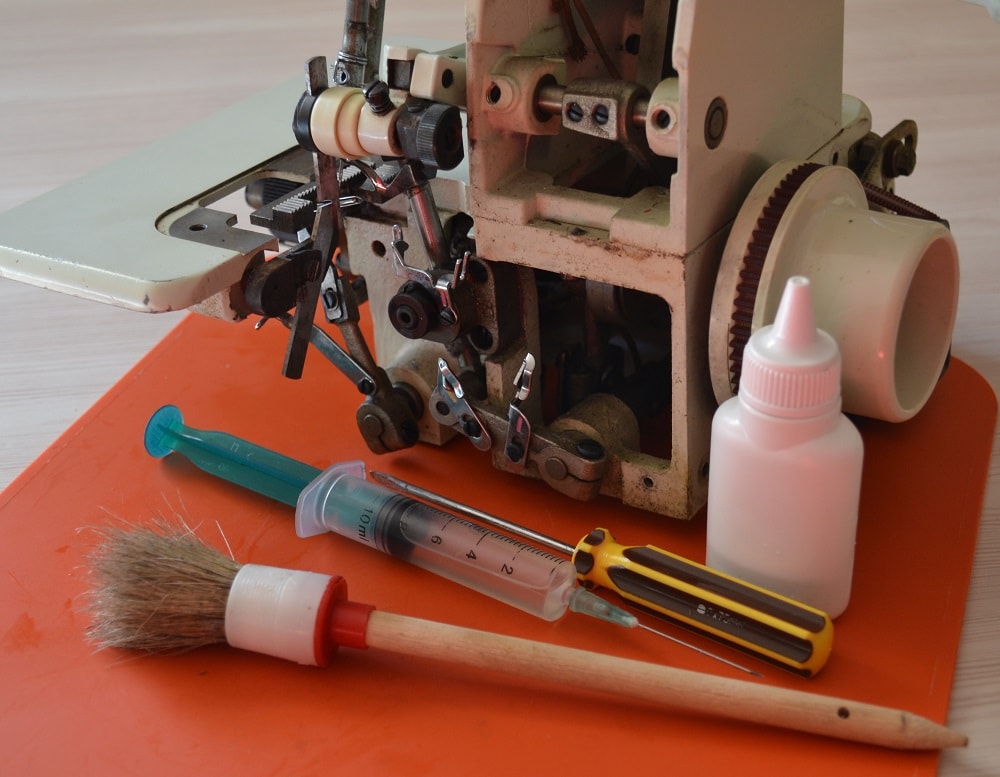 Every overlocker requires oiling regularly. Before start to oil a serger you need clean it from dust and linters. Here are tips to cleaning and oiling your serger.
The overlocker needs some regular cleaning and oiling. I recommend cleaning your overlocker after 24 hours of work in general. Oiling the overlock is recommended once a week if you use overlock every day.
Recommendations for oiling and cleaning your serger you can be found in attached manual. But common rules how to do it you can to know at this article.
Unfortunately, without removing some protective covers is not always possible to grease most rubbing and rotating metal details and mechanisms of overlock well.
In this post I show you inner parts of overlock sewing machine which must be lubricated after removing some housing covers.
Before start to clean and to oil your serger you need have a screw driver, special sewing machine oil and small hard brush.
See also: How to oil and clean sewing machine.
Removing presser foot and needle plate
Take flat screwdriver and remove screw holding a presser foot first.
Next, you have to take off the needle plate that is fastened with two screws.
How to remove a front cover
At this step we will be remove this front cover.
Do not remove this cover if you are not sure in their actions. Especially is not recommended removing any covers in modern models overlocker and computerized sewing machines.
This cover is attached to housing of overlock with five screws(this overlock model).
To remove it you need pull top of the cover towards you and lift it up gently.
How to remove a bottom cover
Now you need remove a bottom cover that is bolted to base of overlock with two big screws. They can be loosened using a large flat-blade screwdriver or using a wrench (10).
At the bottom of this area accumulate a lot of dust and linters and threads. In this photo you see this area after cleaning.
Here are all parts of serger that you have removed.
Here are internal parts and mechanisms of old overlock sewing machine.
How to clean internal parts of serger
For lubrication overlock is convenient to use a medical syringe.
For cleaning you can use a small paint brush.
Take a small hard brush and start to clean inner parts.
How to oil internal parts of serger
Now you need to oil the inner parts of a serger using the medical syringe. To suck oil into it, you need pull out the needle before.
Note: Use a sewing machine oil only.
Tips: Instead reading detailed instructions how to clean and oil a serger use a simple rule: lubricate all metal joints and mechanisms that are rotating, move and touch each other.
Note: You need to oil all internal details well. Do not forget to oil all bushings that are pressed into body of overlock.
Before start to oil your sergeryou need to read manual where are recommendations and instructions of cleaning and oiling of your model of overlocker.
Nips: Be careful, do not pour too much oil. Use not more than 3-5 drops on one join, especially in the area of needles. Excess oil can lead to fabric contamination when sewing.

How to Use an Overlock Sewing Machine
What a kind of stitch does an overlock Janome 4057 do? This is manual how to use a serger and tips for choosing overlock sewing machine.

How to Replace a Serger Drive Belt
These photos and comments help you to tighten or replace a broken drive belt in an overlock sewing machine.

How to Use the Coverstitch Machine
The coverstitch machine is most used for sewing the clothing made from knit jersey fabrics. Here you find a tutorial how to use the coverstitch machine.

How to Thread a Serger (Three Threads)
Here are tips how to thread serger that has one needle and two loopers. This instruction has more 20 photos.

How to Make Jersey Womens T-Shirt
Learn how to sew t-shirts from knit fabrics. Here you will find the tutorial how to make jersey women's t-shirt with 20 photos and pro comments.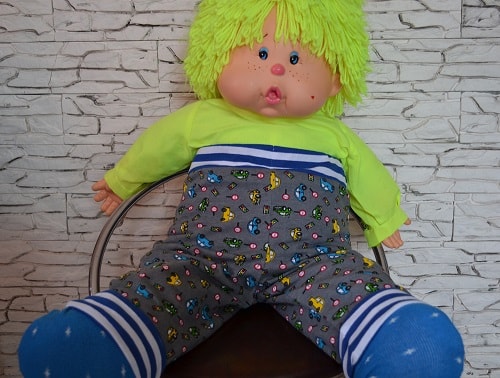 How to Make Children's Pants with Elastic Waist
Looking for knit pants for your toddler? Try sewing knit pants with step by step tutorial.

Tips for Choosing a Sewing Machine
How to choose your first sewing machine. A few key features of sewing machines you need to know necessarily.