Sewing Machine Bobbin Case
Bobbin case is an important part ofany sewing machine. If your sewing machine keeps breaking (top or bobbin) threads, has bobbin thread bunching, looping and tangling you need check a bobbin case first.
In this tutorial you find a description of bobbin case and a few tips that help you troubleshoot most problems.
Firstly, let's learn a device of bobbin case.
Thread Tensioner of Your Sewing Machine. How to Adjust Thread Tension on Front Load Bobbin Case.
Two types of bobbin cases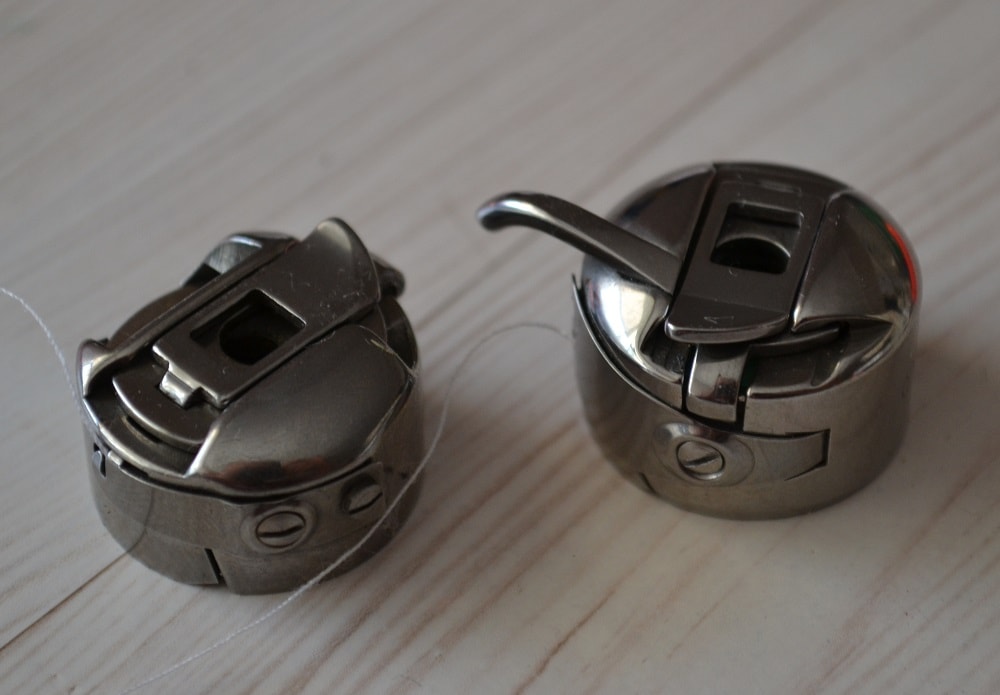 The are most common two kinds of bobbin cases. There are which have a "finger" and there are bobbin cases without such 'finger'. It depends on type of shuttle hook system.
Read more about shuttle hook types in articles: Vertical oscillating shuttle hook and Vertical rotary shuttle hook.
Plastic or menal spools ?
Tips: Use plastic bobbin only. Such spool is lighter and it will better slide inside bobbin case.
How to thread a bobbin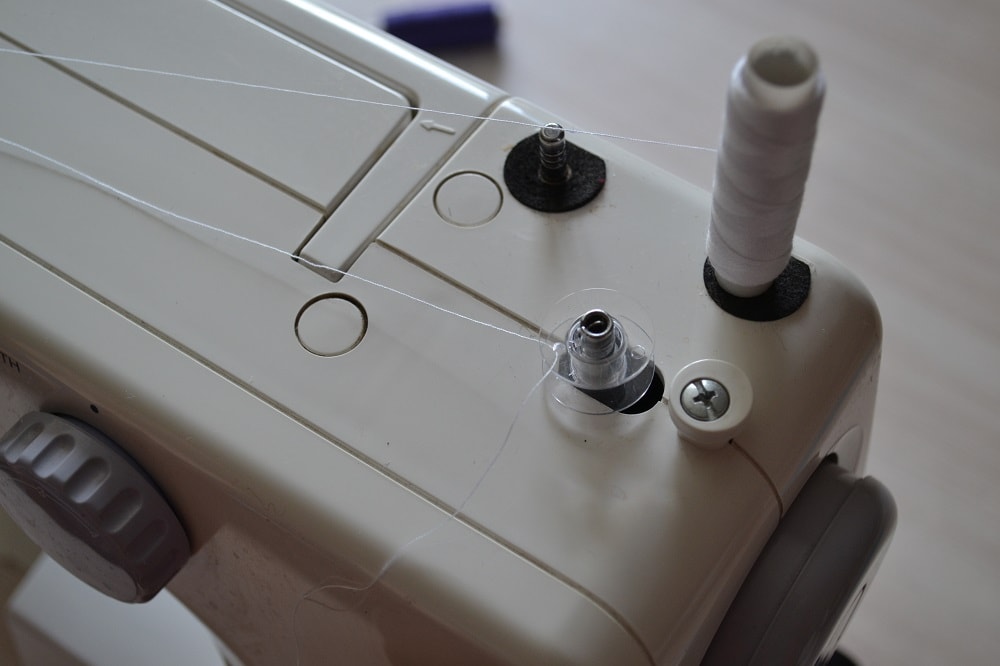 Do you know for what is needed the holes on both sides of bobbin? On this photo is shown their purpose.
Thread tension adjusting
Any bobbin case has a thread tension spring. Adjusting of bobbin thread tension is done with turning this small screw under spring.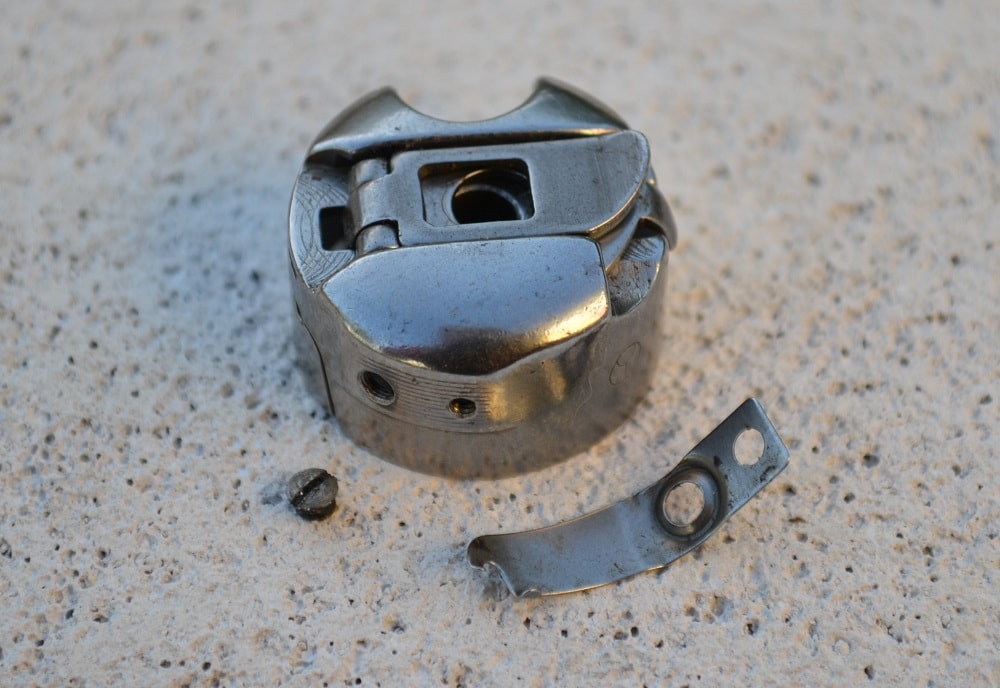 Be careful, do not turn out the screw more than one turn. It is easy to lose and almost impossible to replace with another.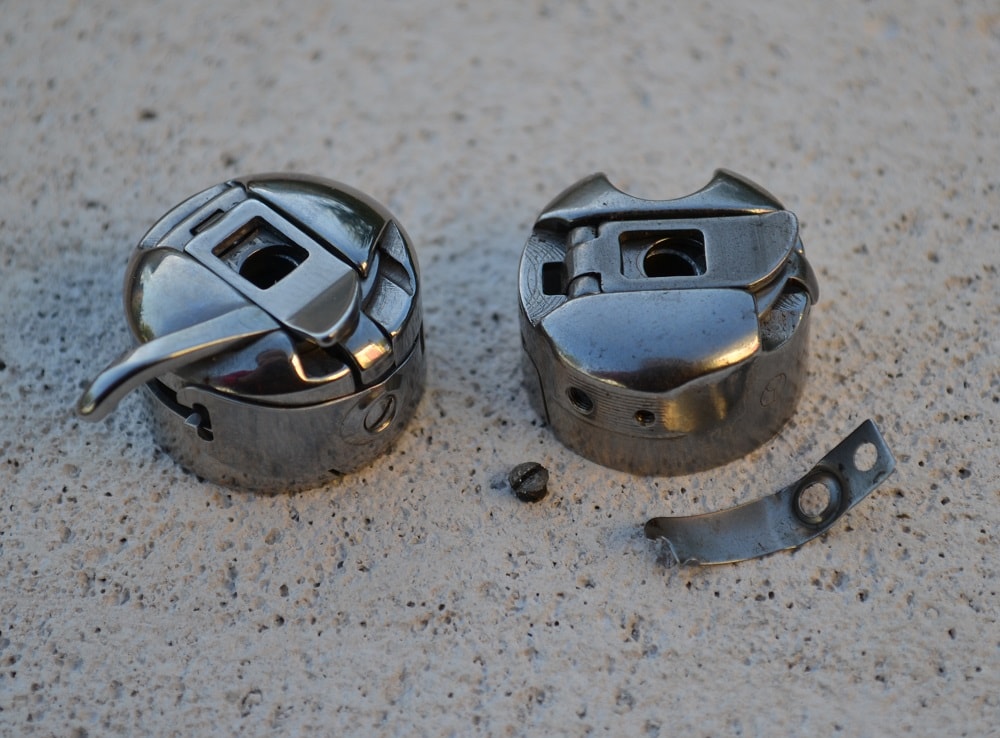 On this photo you see two different types of bobbin cases. Try find three main differences.
Bobbin case on right side is designed for industrial sewing machines.
Making a liner from plastic file
Now I offer you my own trick that helps you adjust a bobbin thread tension correctly.
Note: This advice is best suited for mechanical old models of sewing machines, like Singer, etc.
Cut a little piece from hard plastic file and place a spool on it.
Outline rounded contour of bobbin with pencil.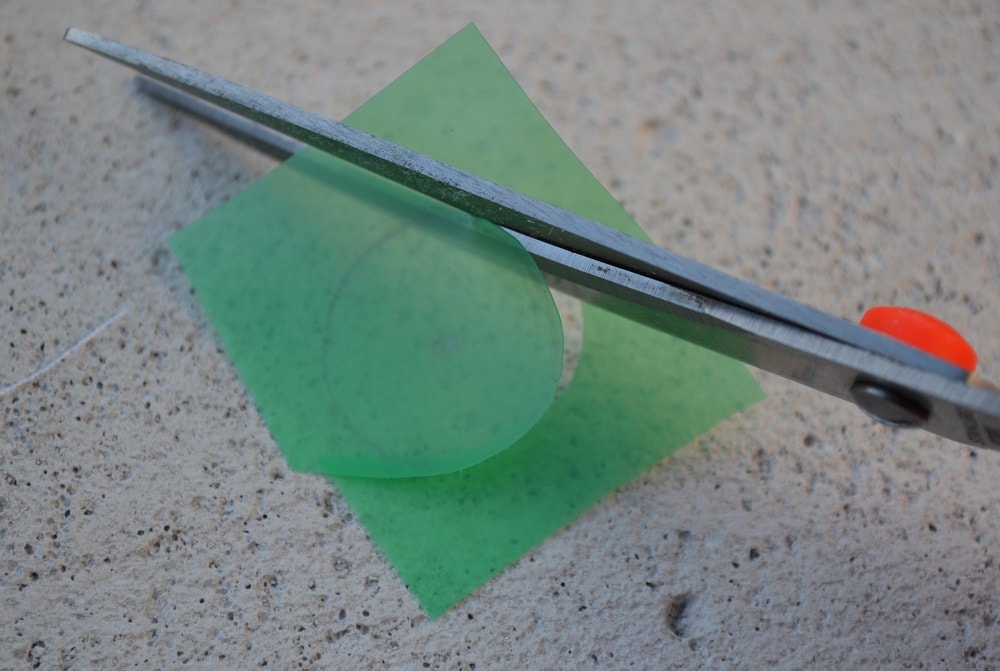 Now you need to cut around the contour circle.
I forgot to explain for what we do it. Dirty and rusty inner metall surface of bobbin case will interfere with good sliding of bobbin. It's may be reason for emergence of many various problems connected with thread tension in stitch lines.
Such thin round plastic liner on bobbin case bottom provides more easily sliding of metal spool.
How to make inner hole of gasket
For trimming this inner hole of plastic gasket will be better to use small manicure scissors.
Now you need to insert the gasket into bobbin case.
If it's size is too large you need trim outer (and inner) edges of plastic gasket.
Bobbin case cleaning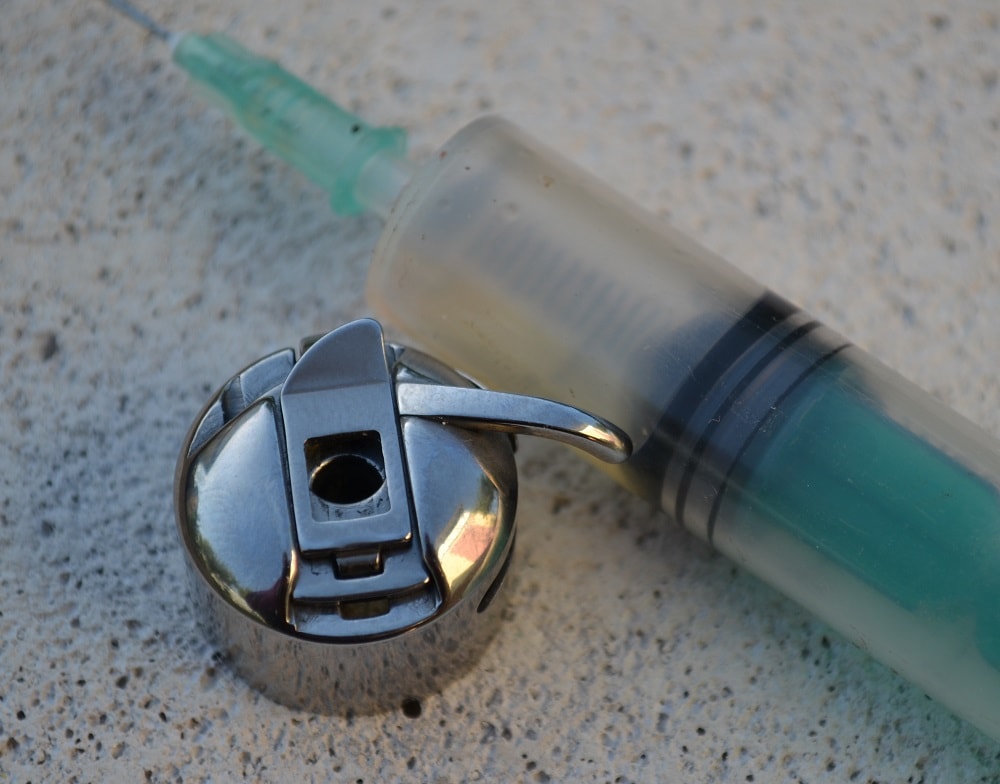 Everyone knows that a sewing machine is needed periodically lubrication. But not everyone knows that a bobbin case should be cleaned periodically and oiling also.
Note: Outer metall surface of bobbin case must be ideally clean and shiny as a mirror.
To oiling any small joints of sewing machine is very convenient to use an usual medical syringe.
Before cleaning and oiling a bobbin case, insert small screwdriver under bobbin case latch, as shown.
Add a few drops of sewing machines oil into slots of bobbin case latch.
How to adjust a bobbin thread tension
Now you get last tip. I will teach you how can quickly and easily to adjust tension a thread going from bobbin case.
Insert a spool into bobbin case. Pass the thread under spring through the thread slot. Pull out the thread about 30-40 cm.
Hold this thread with fingers and lift the bobbin case. Now you need pull the thread sharply up when bobbin case is in hanging position. Thread should come out only a few centimeters.

Problems Thread Tension of Sewing Machines
If you have thread tension problems here you find tips how to fix many of them. Tips and tricks from professional sewing machines mechanic.

Vertical Rotary Shuttle Hook
Most of sewing machines middle and upper classes have rotary vertical or horizontal hook system. In this post you will learn how works a vertical rotary hook. Main features of this device and repair tips.

Tips For Choosing a Sewing Machine
How to choose and buy your first sewing machine or upgrade your old model? Few key features of sewing machines you need to know necessarily.

Sewing Machine Threads Problems
If your sewing machine keeps breaking thread this tutorial help you to fix these problems.

How to Make an Inverted Pleat Skirt
If you will sew a skirt with pleats around, you need read this tutorial. These steps help you make inverted pleats correctly.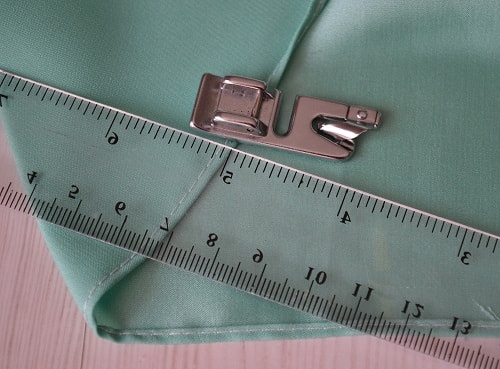 Rolled Hem Presser Foot Tutorial
Using a rolled hem presser foot is simple way to hem thin fabrics. Tutorial has photos with pro comments.