Using and Repair an Old Sewing Machine
In this post you find a manual with tips for using an old sewing machines like Singer. In addition here are instructions how to use and to fix such old models sewing machines.
Using this site article you will get information that helps you choose and buy old sewing machine also.
Many of us have an old sewing machine whose age exceeds 50 years and more. The first models of sewing machines were produced by Singer company.
One hundred years ago The Singer Company was a leader of production household sewing machines. By this reason many of old sewing machines have this common name. In addition, many of other old brands have the same device that sewing machine Singer. For simplicity and with this in mind, we will be conditionally called all these old machines - "Singer".
Note: Such models of sewing machines perform only one straight stitch only.
Needle thread tension assembly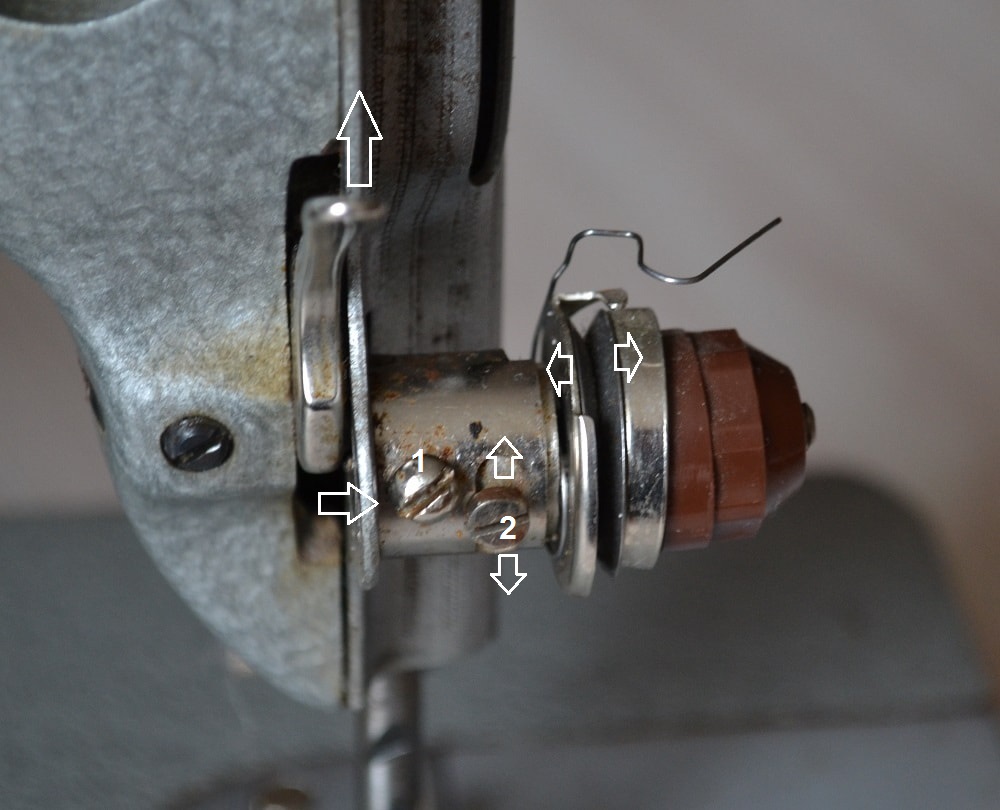 You have tightened thread tension with a control dial as far as it will go but the thread is still loose and bunching up on bottom of fabric. You have tried many ways to fix this problem but unsuccessfully. Try to remove a tensioner device from front cover of sewing machine and disassemble it.
Note: Sometimes to fix it Is enough clean the tensioner (between tension discs) from dust, lint, thread scraps etc.
See also: How to thread a sewing machine.
If lift up a presser bar lifter the tension discs should move apart, thread tension will weaken and vice versa. In this position remove dust and thread scraps is easy.
Screw with mark 1 holds thread tension assembly in housing. If you will loosen the screw with mark 2 you can rotate thread tension assembly in a clockwise direction and vice versa.
On this photo shows all parts of needle thread tensioner of old sewing machine like Singer.
Here are steps of installation sequence these parts. They are marked with numbers.
Hand wheel of old sewing machine
Handwheel (flywheel) is used to beginning of sewing and for doing stitches at low speed by turning flywheel by hand.
Tip: First stitches of sewing better to do manually, move needle up and down using this hand wheel.
Using this machine pulley you can to disengage main shaft of sewing machine during winding a bobbin.
If you need to remove the flywheel from main shaft you must to abide by two rules.
First: this washer has two vertical positions; you can select right position only empirically.
Second: two "petals" have only one position - they should be aimed upward only (towards you).
Adjustment of a bobbin winder
If this device does bad wind a bobbin, you need loosen the screw and adjust position bobbin winder, moving this device closer to the flywheel.
These screws hold the bobbin winder on housing an old sewing machine like Singer.
Check this tightening degree and to change it, if it is needed.
How to oil a needle bar mechanism
Old sewing machines are often for years stand in your pantry without a work. In this case be sure to remove all covers and inspect all mechanisms and parts of sewing machine. You need to clean all metal surfaces and to lubricate all mechanisms with a special oil.
Note: Use the oil that is designed for sewing equipment only!
The presser foot lever and other parts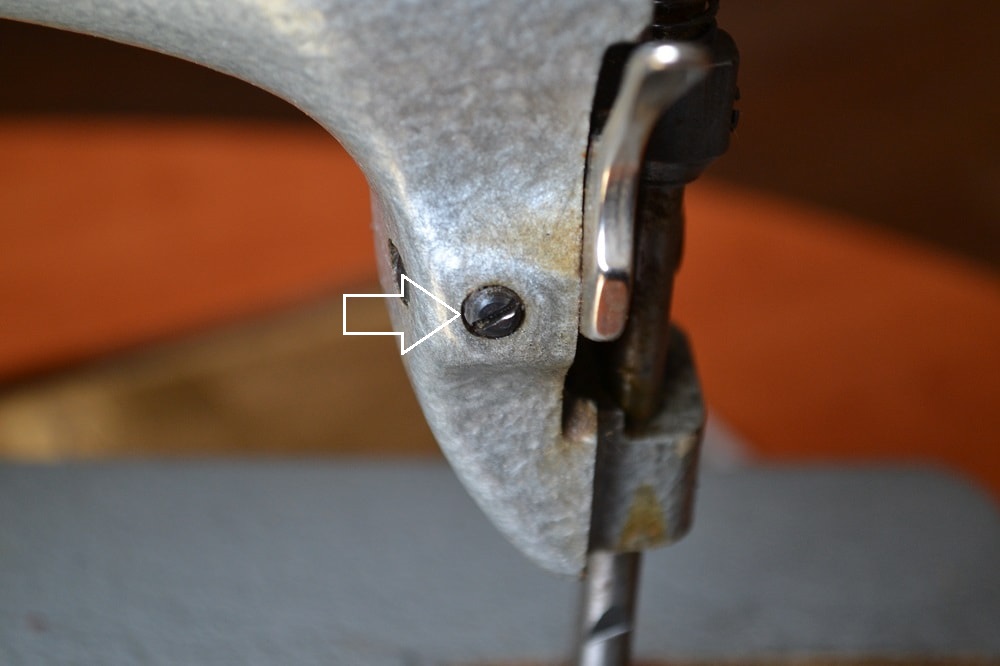 On this photo you see a presser foot lever. This lever lowers a presser foot to fabric. When you need to move your garment under sole of presser foot you need first lift it up.
Here is a fixing screw of the presser foot lever.
This is a fixing screw of a sewing needle. The needle of an old Singer sewing machine is clamped with a small screwdriver. Be sure tightening it enough, but please note, too much effort in this place is bad.
If you will insert in this hole a short flathead screwdriver you can loosen the screw that holds a needle bar. Its position need to be adjusted if sewing line has many skipped stitches.
More often the needle bar needs to be lowered.
All rotating and sliding parts of old sewing machine must be oiled in time.
Especially carefully and abundantly necessary needs to lubricate all internal metal mechanisms and gears.
Tip: During oiling a sewing machine you need to rotate a machine pulley by hand slowly.
Feed dog of an older sewing machine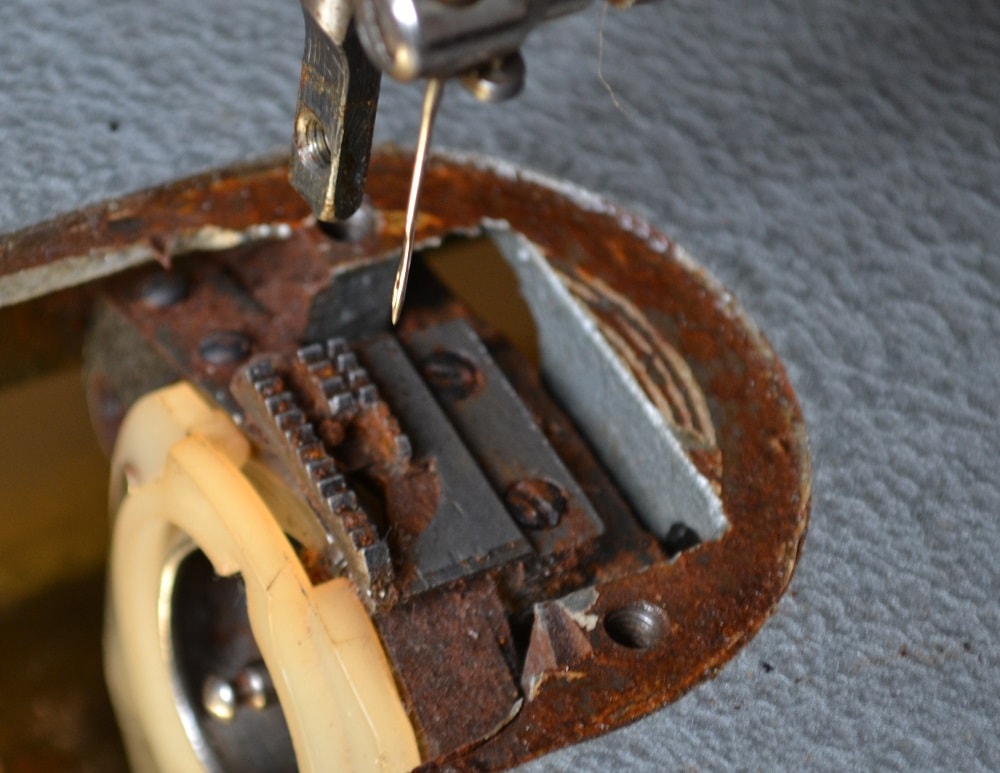 Two metal ribs with little teeth that stick up from a needle plate need for moving your fabric during sewing. They need to be cleaned periodically. Depending on how often is used a sewing machine the feed dog must be cleaned at least once a year.
Tip: For cleaning a sewing machine use a stiff brush.
Shuttle hook mechanism of older sewing machine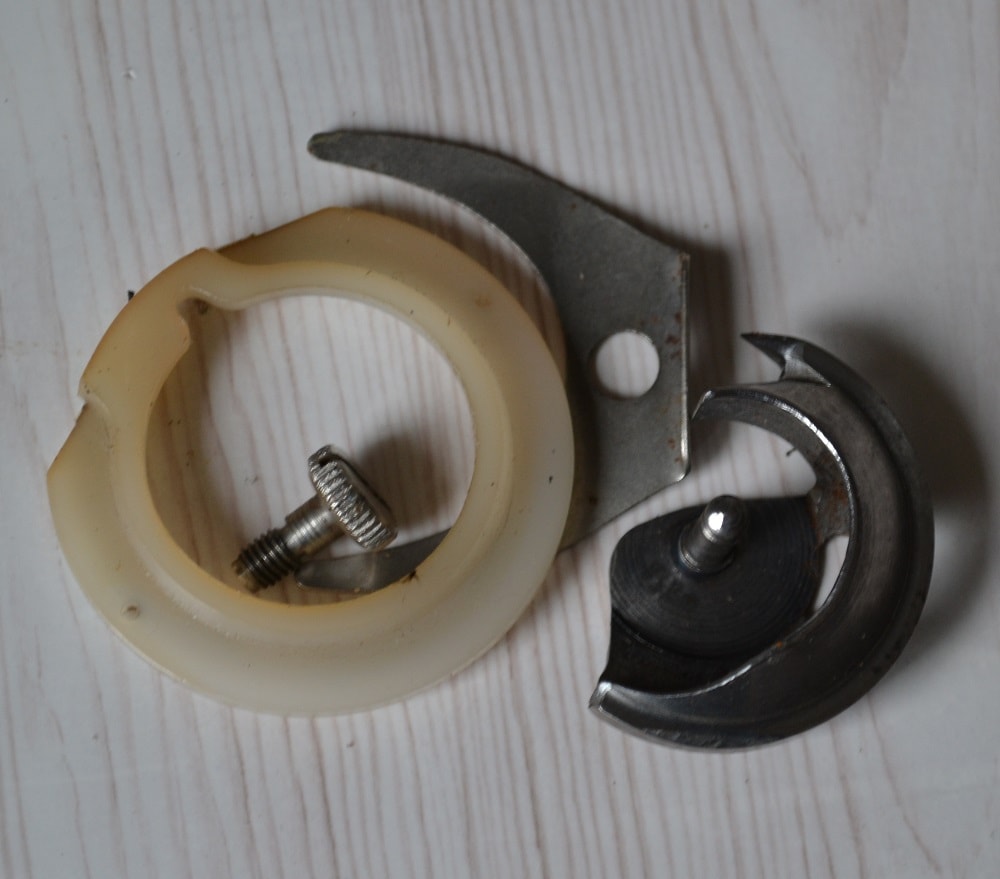 Shuttle hook and bobbin case are considered to be main devices of any models sewing machines.
Such metal bobbin cases have many models of old sewing machines like Singer.
Many of old sewing machines like Singer have a vertical oscillating shuttle hook system. One of its dignity is a long service life.
Cleaning and oiling of sewing machine Singer
Note: Timely cleaning and oiling a sewing machine ensures a good sewing machine operation for many years.

Tips for Choosing a Sewing Machine
Here are tips how to choose your first sewing machine. A few key features of sewing machines you need to know necessarily.

Bobbin and Top Thread Problems
If your sewing machine keeps breaking top or bobbins thread this tutorial help you troubleshoot these problems.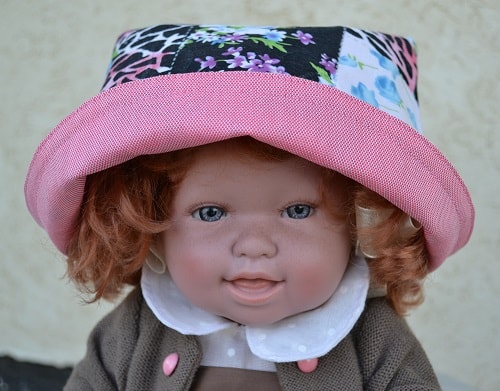 Girls Summer Hat Tutorial
This summer kid's hat looks fine and will be good to protect your baby head from the sun. Try sewing this girl's sun hat using these photos and comments.

How to Make Alphabet Letter Pillows
These are steps of sewing an alphabet letter pillow. You will learn how to make the most difficult form of pillows - alphabet letter A.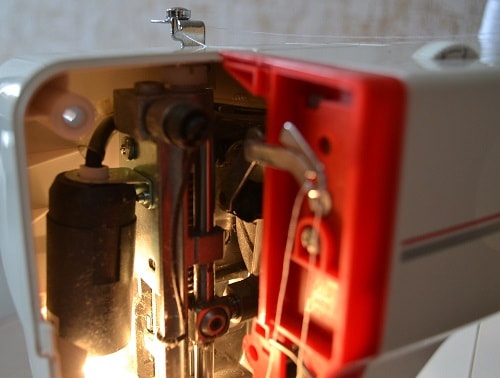 How Does the Home Sewing Machine Inside
Do you want look into the sewing machine? In this post you can see how to works this mechanism and to see all its parts.

How to Use an Overlock Sewing Machine
What a kind of stitch does an overlock Janome 4057 do? Learn how to use a serger and tips for choosing overlock sewing machine.

20 Sewing Tips and Tricks for Beginners
Want to learn the secrets of professional tailor? In this case you need to read this post containing 20 sewing tips and tricks for beginners.

What's inside Sewing Electric Motor and Repair Tips
Look what is inside the sewing electric motor. These photos help you understand how to clean and fix an electric motor of home sewing machine.