Main Characteristics of Industrial Sewing Machines
If you do not know for what is needed an industrial sewing machine you need read this post. Here you find list of main characteristics of sewing machine 'Typical' that performs straight stitches only.
This is standard model of industrial sewing machines that is used not only in sewing studio but and at home also.
Old model of industrial sewing machine
Look! On this photo is shown another old model of industrial sewing machine that it is very similar to modern models like Typical, Yamata etc.
See also: Industrial sewing machine Textima 8332.
Autonomous lubrication system
Each model of industrial sewing machines has an autonomous lubrication system, a table, a table lightening and separate servo motor.
If you will overturn base plate of sewing machine as shown you will see about 1 liter oil and a mechanical oil pump.
These internal labels on metal housing indicate permissible oil levels (high and low). The main feature of any industrial sewing machine is opportunity to operate at high speed for 24 hours. Therefore is needed constant lubrication of machine mechanisms.
On top part of machine body is a special window for oil pressure control. When sewing machine works at high speed must be visible an oil jet in this window.
This sewing machine has vertical rotary shuttle
The industrial sewing machine has vertical rotary shuttle system.
Industrial sewing machines have a rotary hook system that rotates in a full circle around. In order to form a stitch it must make two full circles around.
Here you see two shuttle hook assemblies of industrial sewing machines. It can be easily removed from the shaft. This feature allows you to adjust the interaction a needle and shuttle tip and set a gap between them.
Bobbin case of industrial sewing machine
A bobbin case is similar to bobbin case of home model sewing machines.
Needle plate and feed dog
Needle plates and feed dog need selected depending on thickness fabric. Every industrial sewing machine can have three types of needle plate and feed dog.
Thread tension regulator
Thread tension regulator of industrial sewing machine looks like a tensioner of an old sewing machine like Singer and of others models.
If you will remove faceplate you will find many joints that are required constant to oil.
This is presser foot lever.
Device for winding thread on bobbin
On this photo you see device for winding thread on bobbin that is attached to table.
Servo motor of industrial sewing machine
Each industrial sewing machine has a separate servo motor.
This knee lever works like a lever of presser foot. This knee lifter is actuated by knee that frees both hands seamstress during sewing.
This powerful belt connects clutch motor of industrial sewing machine with a handwheel.
Here you see two buttons of switching on powering.
Note: Most often for industrial machinery are used an increased voltage (380 volts).
Sewing presser feet and accessories
For industrial sewing machines you can use a lot sewing presser feet and accessories.
Bobbins for industrial sewing machines are differ from bobbins intended for home models of sewing machines. Look! They have different width, therefore they are not interchangeable.
Along a table edge is marked a measuring scale. It makes use an industrial sewing machine more comfortable.
The table of industrial sewing machine has convenient drawer for storing sewing accessories.

Tips for Choosing a Sewing Machine
Here you learn tips how to choose your first sewing machine. A few key features of sewing machines you need to know necessarily.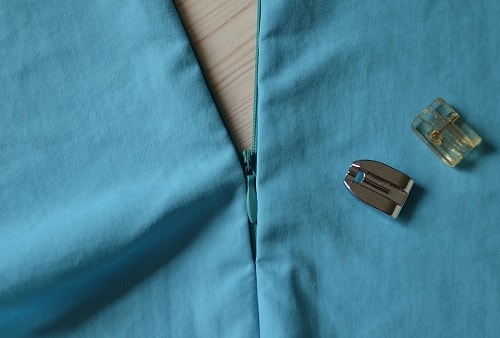 How to Install the Invisible Zipper
Learn how to sew an invisible zipper. Here are steps of installing a zipper with 30 photos and tailor's comments.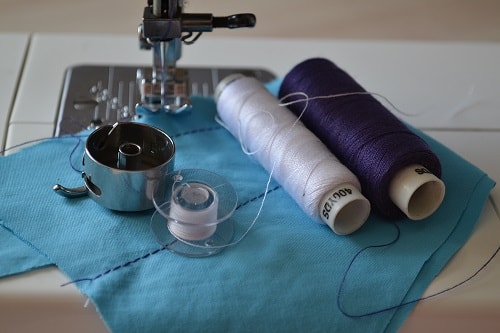 How to Thread a Sewing Machine
This is universal tutorial for threading any sewing machines and winding a bobbin.

How to Fix Zipper and Replace the Slider
The main reason for repair zipper is broken slider. Learn tips how to fix zipper and replace the zipper slider.

How to Make a Circle Skirt
Here are steps on how to make a full circle skirt for your daughter 4-5 years. This skirt has elastic waist, without lining.

Womens Short Sleeve T-Shirt with Bias Tape
This women's t-shirt has a few features. This tutorial has 20 photos.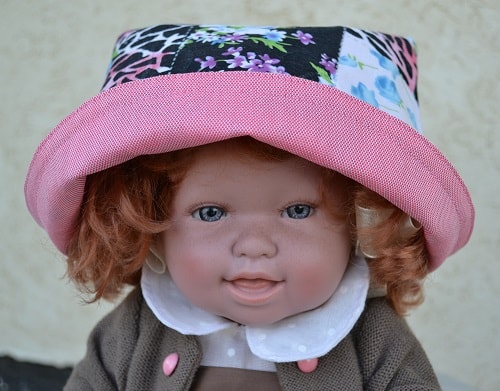 Girls Summer Hat Tutorial
This summer kid's hat looks fine and will be good to protect your baby head from the sun. Try sewing it using these photos and comments.