Clutch Motor of Industrial Sewing Machine
All modern household sewing machines have an electric motor drive. Home sewing machines and industrial sewing machine models have different types of electric motor drives.
Industrial sewing machines have a special sewing machine drive. All of them are equipped with a clutch motor at which a sewing machine is able to work 24 hours a day without interruption and at a high speed.
In this article you will learn how works such electric drive and then it differs from domestic version.
Which motor is used in sewing machine? What is the difference between clutch motor and servo motor? How does a clutch motor work? You will learn the answers to these questions in this video.
Industrial sewing machine electric motor is switched on through a special unit that has the ability to automatically turning off emergency disconnection from the network).
The clutch motor drives an industrial sewing machine with a special belt.
Tension of this belt is adjusted by loosening these adjustment nuts on both sides of motor.
Industrial clutch motors can operate on the network 400/690 or 220/110 volts.
This option allows you to use a sewing machine at home, in sewing studio and small workshops having mains voltage 220/100 volts.
In conditions of garment factories is used three-phase mains voltage 400 /690 volts.
On this photo you see a knee lever that is used for lifting a presser foot. Knee control lever is an alternative device. Design of industrial sewing machine provides a hand lever of presser foot.
But the knee control lever is more convenient because it frees both hands and improves the efficiency of seamstresses work. The knee control lever is used for controlling most industrial sewing machines.
Drive belt has a special cross section and size.
With help of this spring is adjusted force of pressing on the foot platform. Pressing on it can be adjusted speed control of drive.
Clutch motor of industrial sewing machine has a friction device which regulates speed of rotation of sheave. The more tightly the motor and pulley discs are pressed, the more is speed of rotation of sewing machine.
Frictional device has and another function. It provides an abrupt stopping of sewing machine after removing your leg from pedal platform.
This screw adjusts a work of brake system of clutch motor.
To every clutch motor attached an additional sheave. Pulley with smaller diameter provides a higher speed operation of sewing machine.
Engine speed is controlled by pressing on this platform (leg foot treadle).
Adjusting the platform position is performed with help of this treadle linkage bar.

Sewing Machine Foot Control Pedal
Look what is inside sewing machine foot control. These photos and comments help you understand how to repair a foot control pedal.

Sewing Machine Electric Motor
Here you find tips for fixing and cleaning an electric motor of household sewing machine.

How Sewing Machine Works
Learn how to construct and work a sewing machine. Here is home model of zigzag sewing machine.

Vertical Rotary Shuttle Hook System
Sewing machines middle and upper classes have rotary (vertical or horizontal) shuttle hook systems. Here you can read how works vertical rotary hook.

Tips for Choosing a Sewing Machine
How to choose your first sewing machine or upgrade your old model? A few key features of sewing machines you need to know necessarily.

Lower and Top Threads of Sewing Machine
If your sewing machine keeps breaking top or bobbins threads this tutorial helps you troubleshoot this problem.

How to Make an Inverted Pleat Skirt
If you will make a skirt with pleats use this tutorial. These steps help you learn how to make an inverted pleat.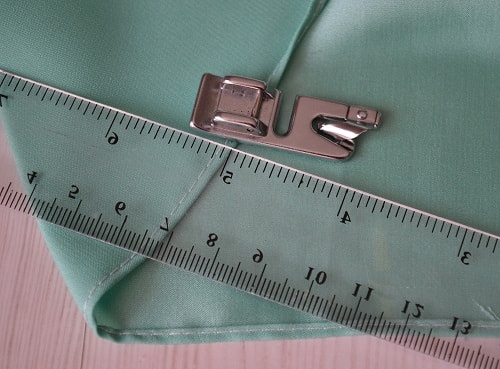 Rolled Hem Presser Foot
Using a rolled hem presser foot is simple way how to hem garments from thin fabrics. This tutorial has 10 photos with pro comments.