Sewing Machine Foot Control Pedal
Want look what is inside a foot control of sewing machine? These photos help you do it and to understand how to repair a foot control pedal.
But please be aware that disassembling of any electrical appliances should specialists only.
Modern model of speed controller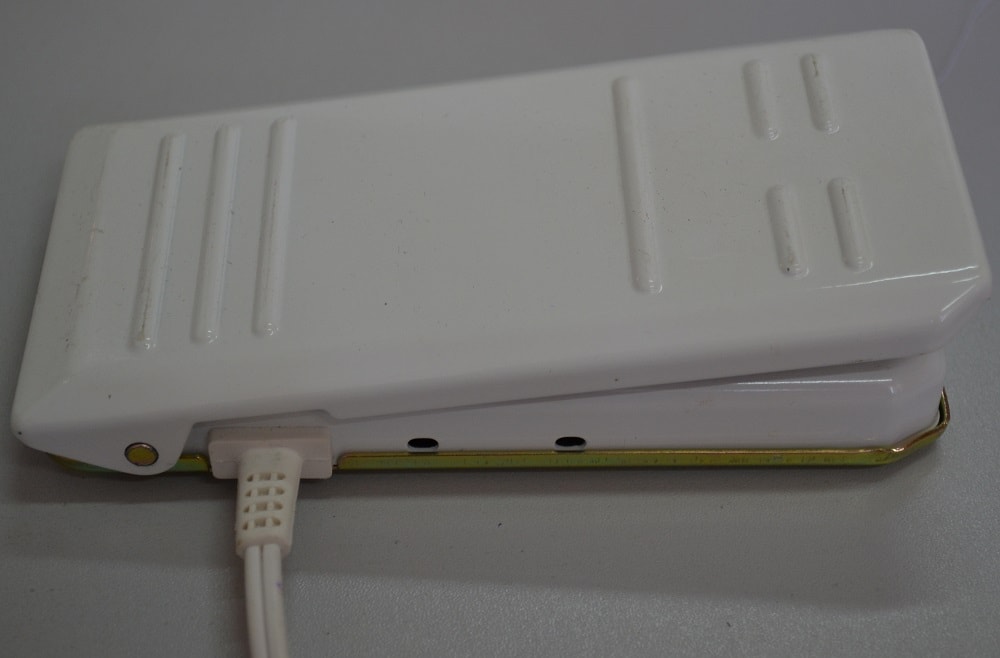 In this article I'll show you two types of sewing machine foot control pedals. First type is a modern model of speed controller of computerized sewing machine.
In second half of this post you will see what is inside a foot control pedal of old sewing machines or modern budget models, having oscillating shuttle hook system.
Note: Never open an electrical appliances yourself. This should be done only by specialists. But if you're curious, you can look at what is inside foot control pedal using my photos.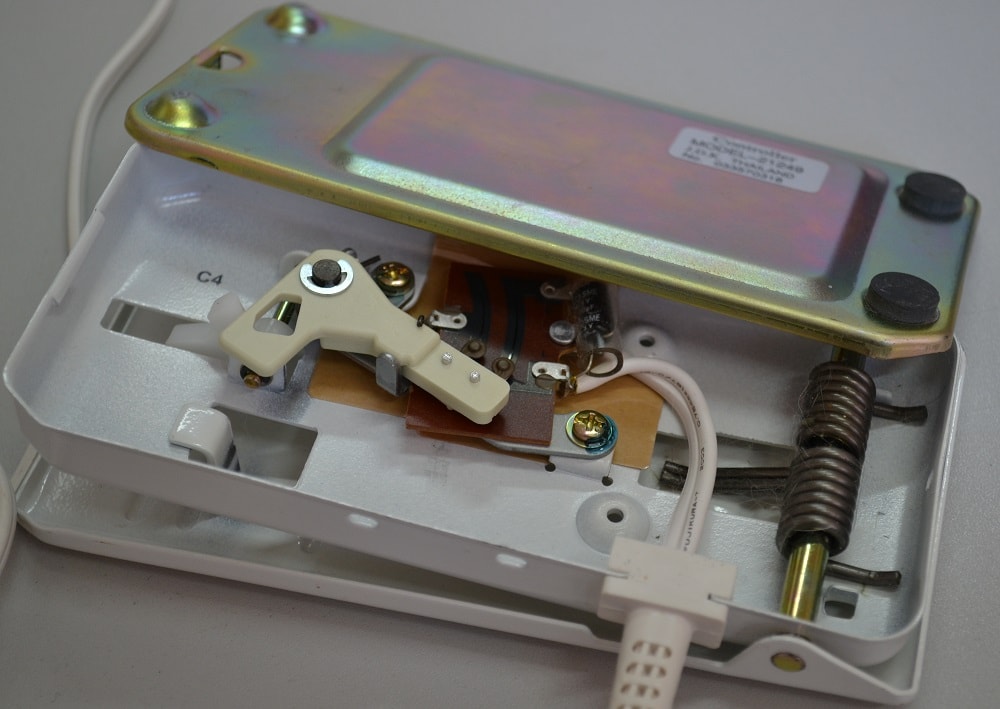 Inside a household foot control pedal you will find not too many details. Usually into the controller case is one rheostat like this.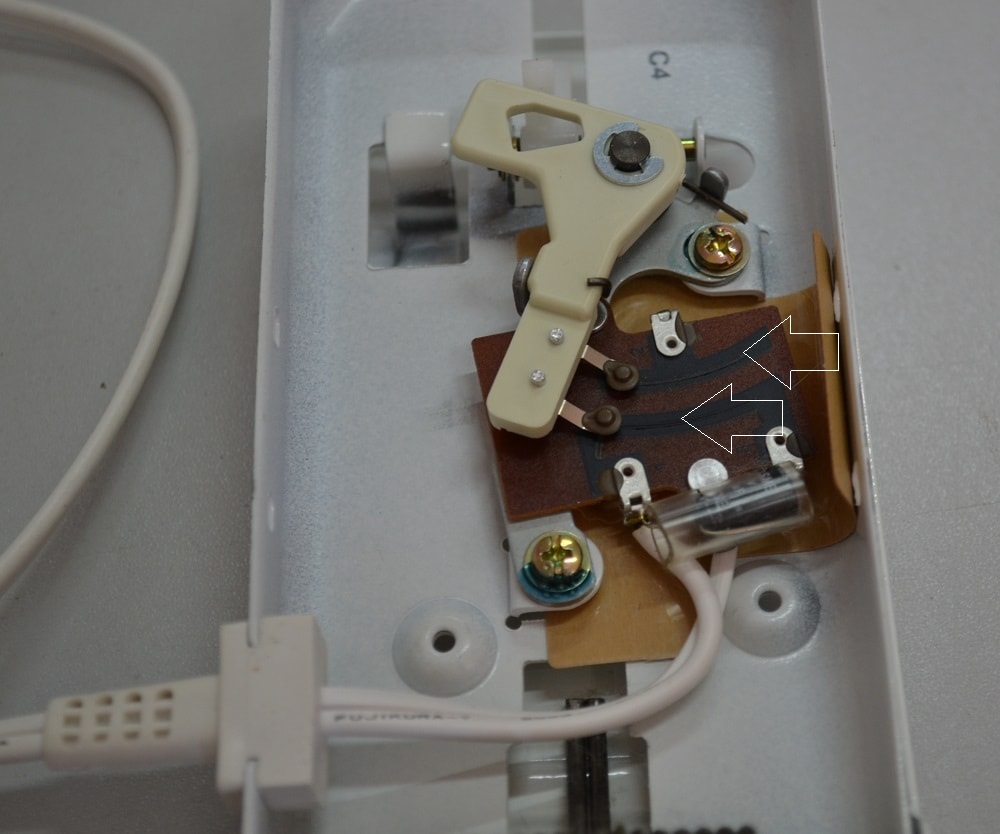 This is a modern and very reliable type of pedal. But when sewing machine is used for a long time and such pedal can be breaked.
If your sewing machine is running with jerks, that probably the reason is here. On two grafit tracks of resistor plate. They may burnt or worn out.
If you are removed a cover of sewing foot pedal it's desirable to lubricate all internal metal details having friction locations and joints.
Lubricate any joins a pedal with two drops, no more than.
This is connector for joining the pedal to sewing machine.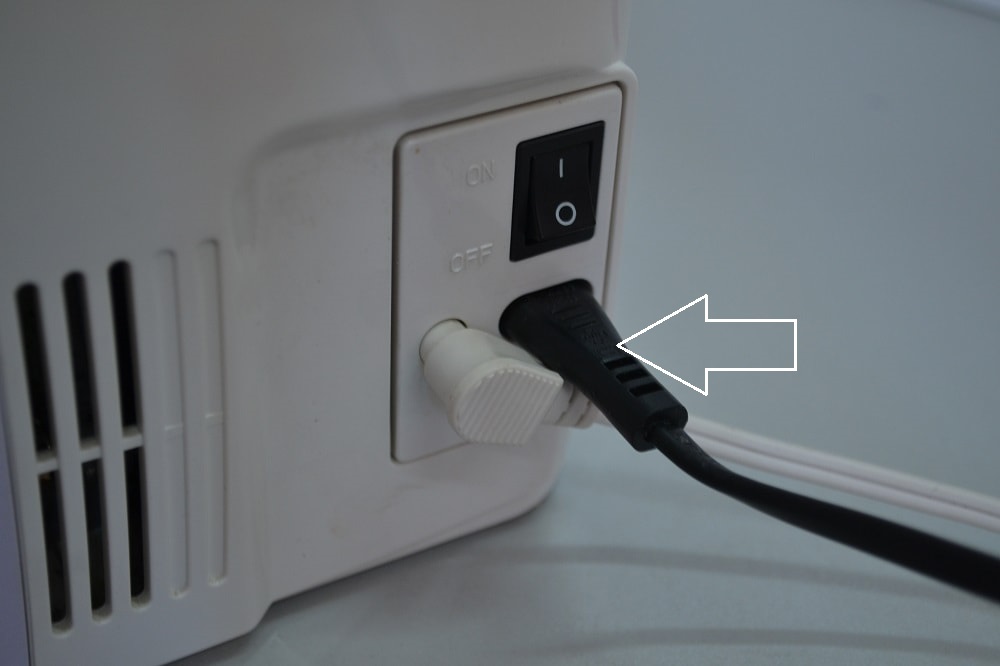 In this model of sewing machine an electrical power supply cord is connected separately.
Foot control pedal of old sewing machines
Now, you will see what is inside a foot control pedal of old sewing machines or most budget models machines.
This is controller of old model Juki sewing machine made in Japan.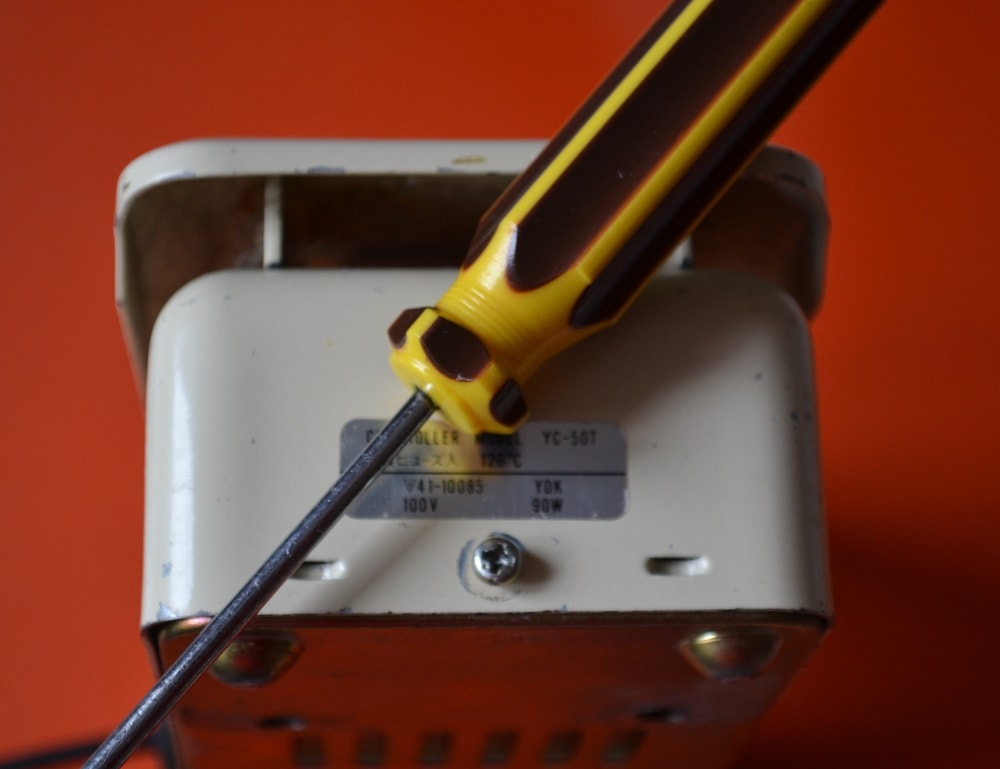 To remove the cover you need unscrew only one screw.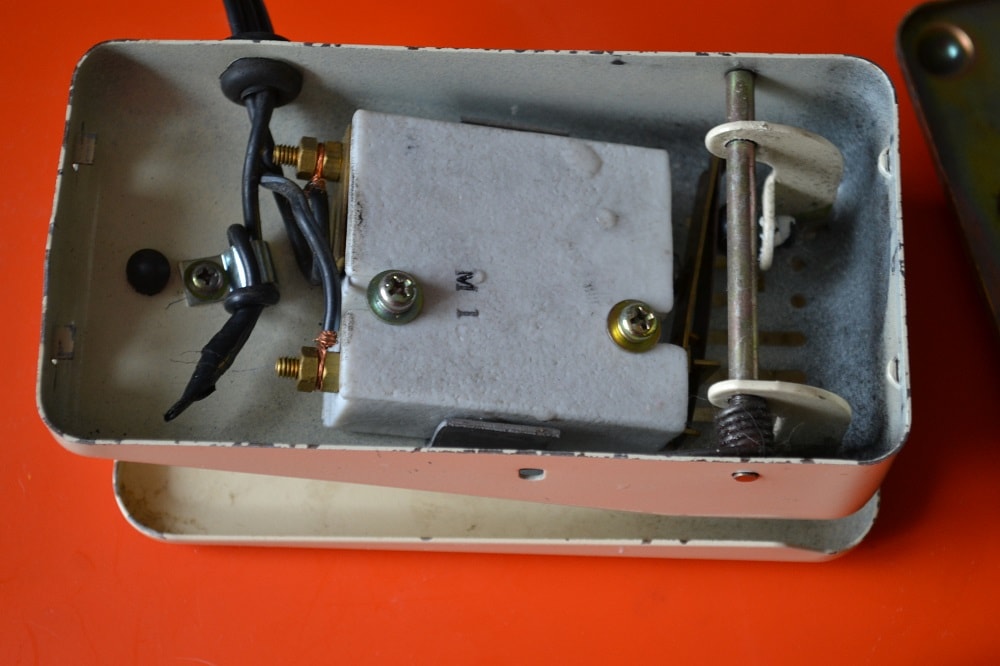 Inside you will to find a ceramic case having the rheostat, but of a different type.
Inside this ceramic block is placed a lot of thin graphite plates. When you press the foot pedal the metal wedge presses down the plate that compresses all graphite wafers into the rheostat together. The more they are compressed to each other the total resistance of the rheostat decreases and an electric motor of sewing machine works at a higher speed.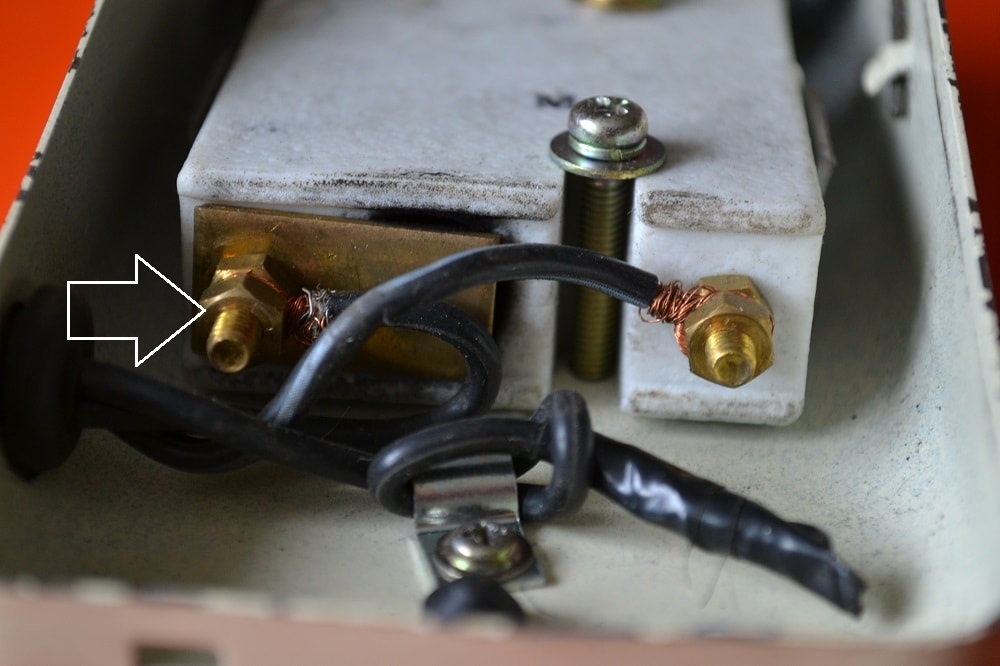 If you remove the screw and pull of this plate, you can see the rheostat graphite wafers.
Tips: Remove it is needed if a foot controller requires too much pressure to get up to speed, or a sewing machine works only when the pedal is fully depressed or works with jerks.
If the sewing machine has become slower to work, or works with jerks. One of the reasons for this is that the speed controller is faulty.
Graphite plates of foot control rheostat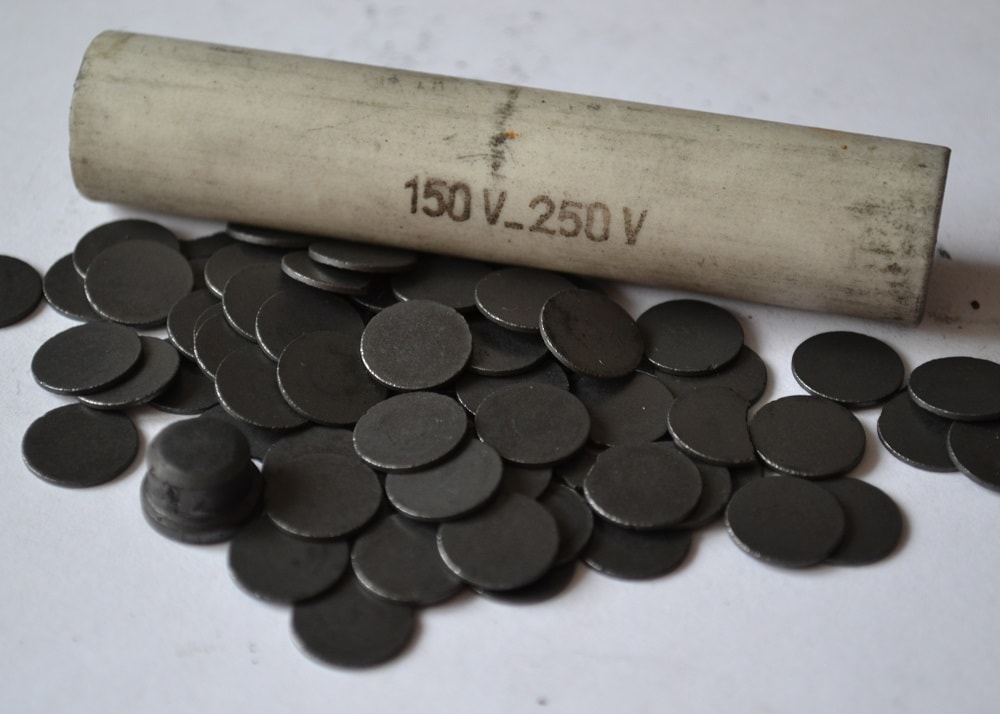 On this photo shows a device of another sewing foot control pedal, but the graphite plates are identical.
After years of work these plates are burned out or covered by plaques, which prevents good contact between them. In some circumstances you can to repair a pedal if you can remove carbon deposits.
But keep in mind that these graphite circle plates are very fragile. Besides, keep in mind that repairing electrical appliances should be done by specialist only.

How a Sewing Machine Works
Learn how works a sewing machine. It helps you in some cases to fix your sewing machine yourself. Here is home model of the zigzag sewing machine.

Fixing the Electric Motor of Sewing Machine
Here you find tips for fixing and cleaning the electric motor your household sewing machine.

Vertical Rotary Shuttle Hook System
Many sewing machines (middle and upper classes) have a rotary vertical or horizontal hook system. Here you can read how works vertical rotary hook and tips for repair.

Tips for Choosing a Sewing Machine
Do not know how to choose your first sewing machine? Learn a few key features of sewing machines you need to know necessarily.

Bobbin and Top Thread of Sewing Machine
Learn this tutorial if your sewing machine keeps breaking top or bobbins threads. These tips help you troubleshoot such problems.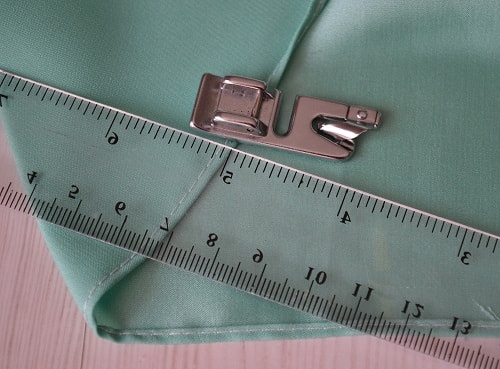 Rolled Hem Presser Foot
Using the rolled hem presser foot you can to hem many kind of fabrics. The tutorial has 10 photos with comments.

20 Sewing Tips and Tricks for Beginners
Want to learn the secrets of professional tailor? In this case you need to read this post containing 20 sewing tips and tricks for beginners.