How a Sewing Machine Works
If you know how to works a sewing machine you can prevent breakage of sewing machine. In many cases you can try even to fix it yourself.
Here is device of the zigzag sewing machine model for home - most popular old model household sewing machine.
Learn how works a sewing machine. These knowing will be help you use the sewing machine correctly and for a long time to keep it's working state.
Learn how works your sewing machine. Knowledge of working a sewing machine helps you not only to sew correctly but and save money on it's repairs.
There are several types of sewing machines having different device of shuttle hook system. On this photo is shown home model of the zigzag sewing machine that has the vertical oscillating shuttle hook system.
Go this link if you want learn how works the industrial sewing machines.
How to adjust the height of the feed dog
For different types of fabrics is needed adjust the height of the feed dog teeth. This is done using this handle (for this model of sewing machine) or another way. In this case you need to switch the handle to a different position. Look on the needle plate to check the position of the teeth.
All rotatided metal parts must be lubricated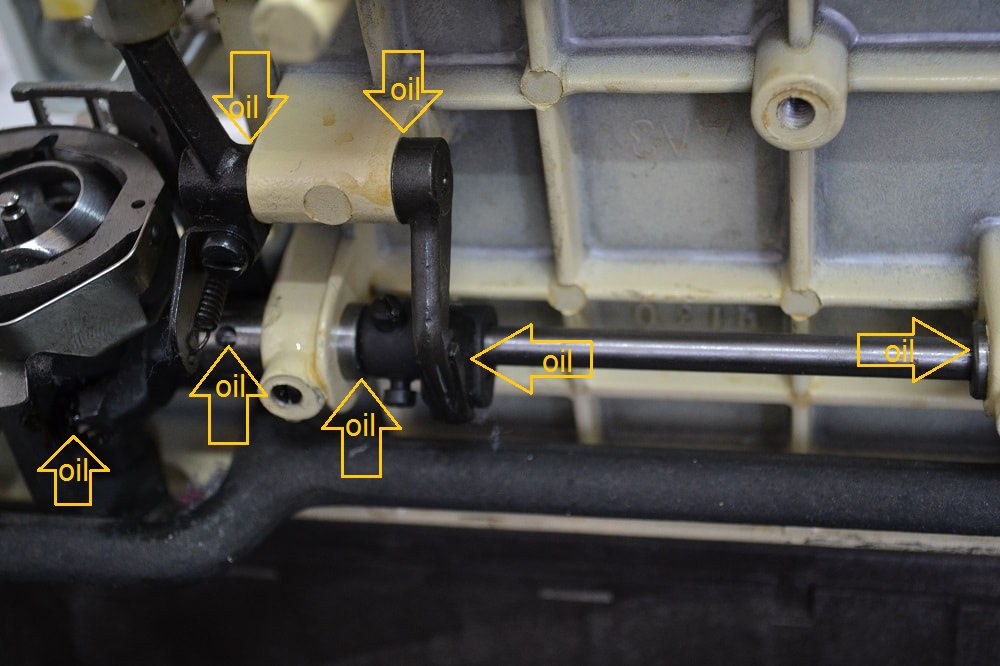 In the bottom of the sewing machine are metal parts that must be lubricated periodically.
Such metal gears should be lubricated with a special grease. But this lubricant should not harden with time. Pay attention to this when buying it.
How works an oscillating shuttle hook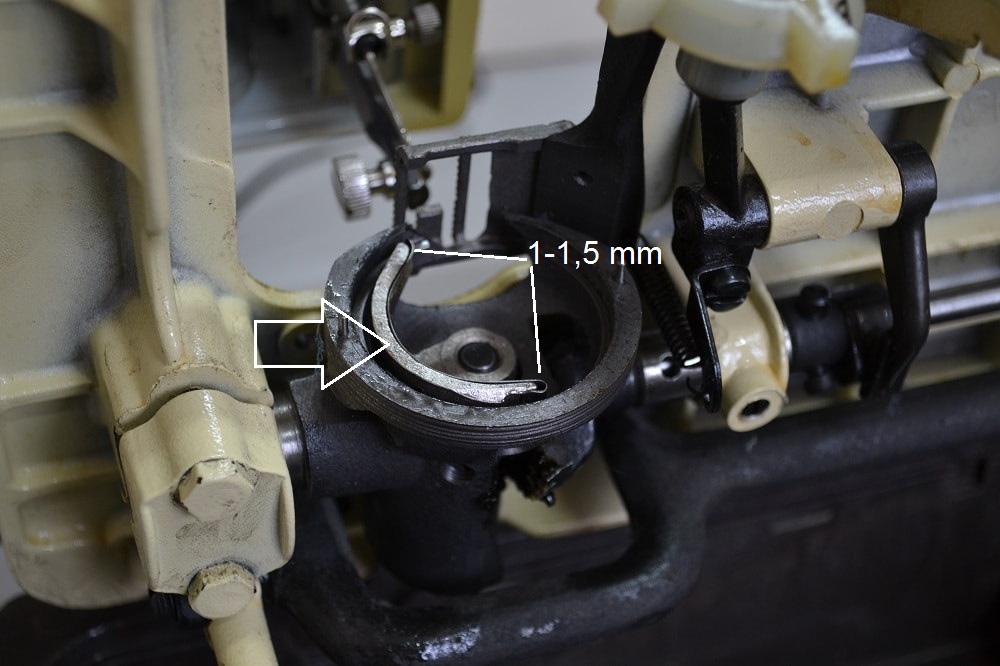 This is the driver of vertical oscillating shuttle hook.
The flat spring of driver must have the gap size about 1 - 1.5 mm.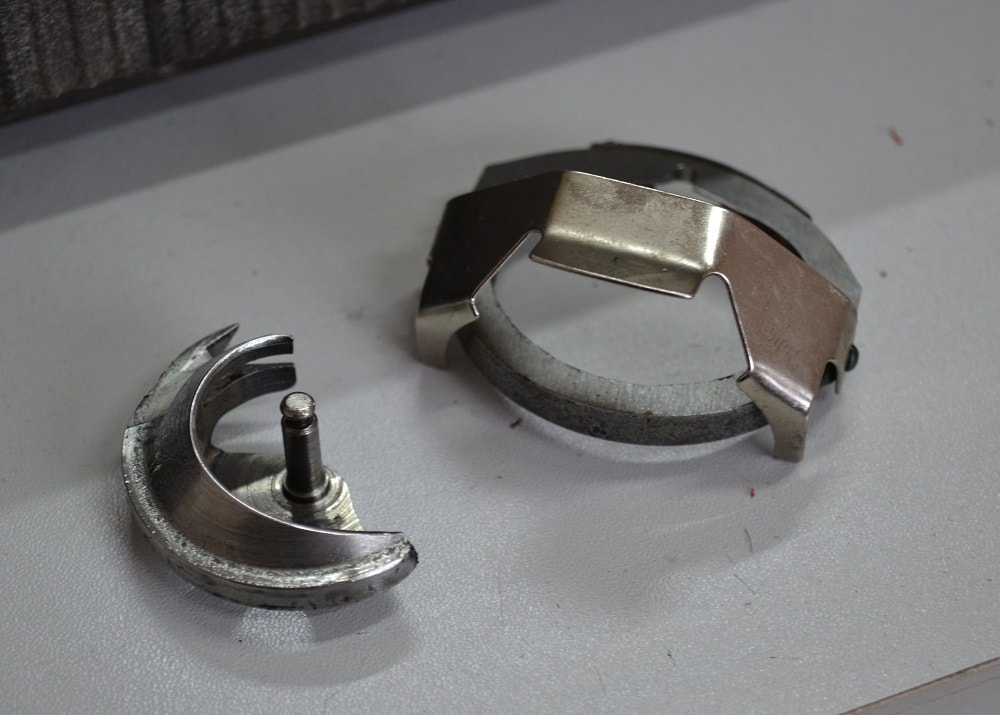 The surface of the shuttle must be perfectly smooth and not have any dents or rust areas.
The tip of the shuttle hook should be sharp.
The tip of the shuttle hook should pass above the eye of the needle by 1.5 - 2 mm, as shown on photo. Check this parameter first if the sewing machine does not form stitches.
At the same time the tip of the shuttle hook should pass along the needle, as close as possible - 0.15 mm. Check this option in case if the sewing machine skips stitches.
To bring closer or move away the tip of the hook from the needle you need to loosen these two screws. Then you can rotate the shuttle assemble along its axis.
Note: Other models of sewing machines can have another way of adjusting this clearance.
Do you want look inside sewing machine? In this video you can learn how to works it and to see all its internal parts.
The mechanisms under top cover
Remove all covers from sewing machine. Clean and oil all mechanisms under covers. After oiling the sewing machine will be works quietly and gently.
On this photo you see block of the zigzag stitch formation. This device needs oiling also.
Thread tensioner and needle bar
Remove the front cover and oil all joints and mechanisms using special sewing oil only.
The screw (P) presses needle bar. The screw (T) clamps the thread tensioner.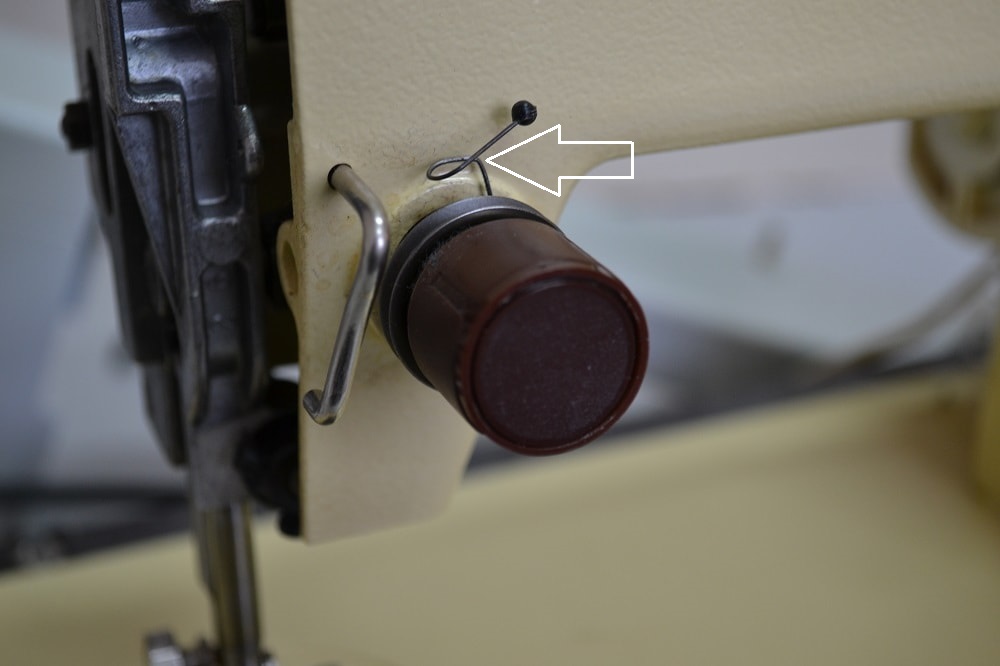 Any thread tension assembly must have such wire hook. If it is missing or is broken the stitches will have defects.
The reverse lever and knob of length stitch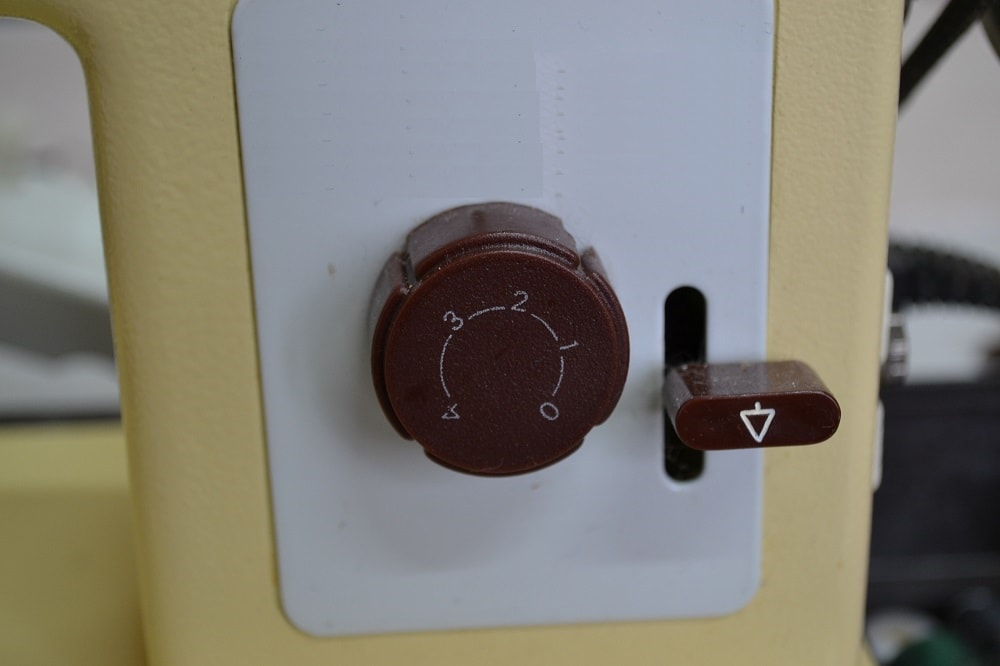 The reverse lever and knob of selection the length stitch.
How to tighten a belt of electric motor
Screw for fixing the electric motor to the body a sewing machine.
The belt tension of the electric motor can be controlled in two ways. Using this screw that holds the electric motor to the body a sewing machine. The belt tension can be controlled using these two screws also.
How works the foot controller of sewing machine
Here is the foot controller of sewing machine.
Do not disassemble the pedal body, repairing it with own hands is not allowed. But if you're wondering how works not only sewing machine but and the foot control pedal you can read in another articles.

Tips for Choosing a Sewing Machine
How to choose your first sewing machine? A few key features of sewing machines you need to know necessarily.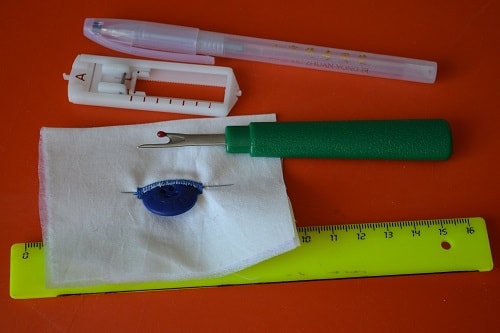 How To Sew Four Step Buttonhole
All modern sewing machines come with the ability to do the buttonholes. In this tutorial you learn how to do four-step buttonhole.

Vertical Rotary Shuttle Hook System
Sewing machines (middle and upper classes) have the rotary vertical or horizontal hook systems. Here you can read how works vertical rotary hook and tips for repair it.

Bobbin and Top Thread Problems
If your sewing machine keeps breaking top or bobbins thread this tutorial helps you troubleshoot these problems.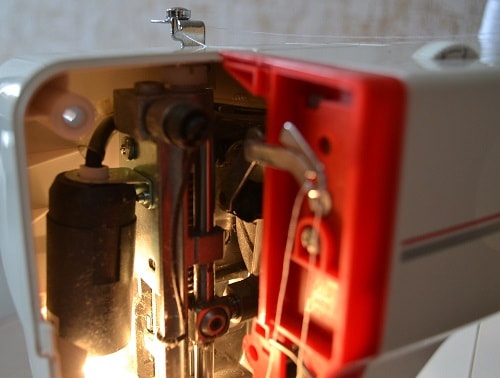 How Does The Home Sewing Machine Inside
Do you want look inner parts of the sewing machine? In this post you can see how to works this mechanism and all its inner parts.

How to Cut the Bottom of Jeans
This tutorial has steps for restoring the bottom edge of your old jeans. In this post you will learn two ways how to cut bottom of jeans at home.

20 Sewing Tips and Tricks for Beginners
Want to learn the secrets of professional tailor? In this case you need to read this post containing 20 sewing tips and tricks for beginners.

What's inside Sewing Electric Motor and Repair Tips
Look what is inside the sewing electric motor. These photos help you understand how to clean and fix an electric motor of home sewing machine.