What is Inside Sewing Electric Motor
Let's look what is inside a sewing electric motor. These photos help you understand how to clean and to fix an electric motor of home sewing machine.
Note: Industrial sewing machines do not use such motors.
First, it should be noted that this type of motors is used on older models of sewing machines. Modern models of sewing machines are equipped with electric motors that are located inside housing of sewing machine.
External type of sewing machine motor
This is external type of sewing machine motor that can easy to replace. The motor is attached directly to body of sewing machine with a single screw. This type of electric drive is used for older sewing machines.
With these screws the motor is mounted to support. This mount having two screws allows you to adjust a belt tension.
How to remove a pulley
Remove this bracket from the motor housing at first.
If you unscrew the screw you will be able to remove a pulley.
Note: The pulley is removed with effort.
The pulley can be made from metal or plastic.
How to disassemble motor casing
Now let's look inside the motor housing. The shell of sewing machine motor has two parts that are fastened together by four screws.
Unscrew these screws with flat screwdriver to remove covers.
Sewing electric motor - view above.
Sewing Electric Motor - Repair Tips
At this photo is shown a commutator bar (an armature) of electric motor. Its surface should not have any dirt and scratches.
If the motor does not works, check these contacts first.
Checking an integrity of wire windings is possible only by using a special device.
How to oil inner details of motor
An axis a motor has two bearings that should be lubricated with a few oil drops.
Pour here two or three drops of oil, no more.
On the opposite side of electric motor also needed add two or three drops of oil.
Copper wire windings must have a clean light look.
Sewing electric motor brushes
Such sewing electric motor has two carbon brushes.
To remove these graffiti brushes you need straighten out these cooper plates first.
Be careful, inside is mouted a spring and carbon brushes can "jump out".
These springs press the carbon brushes closer to commutator bar surface.
Surface of the commutator bar (an armature) must be clean and smooth.
To clean this surface you can using an usual paper only.
Note: Never use abrasive materials.

Clutch Motor of Industrial Sewing Machine
The industrial sewing machines have special clutch motor at which the machine is able to work 24 hours a day without interruption and at a high speed.

Sewing Machine Foot Control Pedal - Repair Tips
Look what is inside the sewing machine foot control. These photos help you understand how to fix a foot control pedal.

How a Sewing Machine Works
Learn how to construct and work a sewing machine. Here is home model of the zigzag sewing machine.

Vertical Rotary Shuttle Hook System
Sewing machines middle and upper class have a rotary vertical or horizontal hook system. Here you can read how works vertical rotary hook and tips for repair.

Tips For Choosing A Sewing Machine
How to choose your first sewing machine? A few key features of sewing machines you need to know necessarily.

Bobbin and Top Thread Problems
If your sewing machine keeps breaking top or bobbins thread this tutorial help you troubleshoot these problems.

How to Make an Inverted Pleat Skirt
If you will make a skirt and you want add the pleats use this tutorial. These steps help you learn how to make the inverted pleat.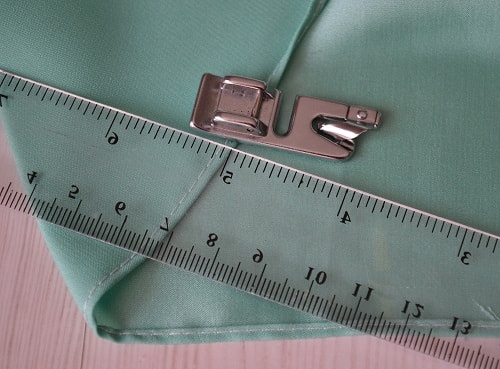 Rolled Hem Presser Foot Tutorial
Using the rolled hem presser foot is the simple way how to hem thin fabrics. The tutorial has 10 photos with pro comments.