Tips to Choosing a Sewing Machine for Beginners
You need buy a sewing machine and don't know where to start? Buying a sewing machine for beginner is an important event. Here are some helpful tips how to do right choice your first sewing machine.
Standard sewing stitches set
All sewing machines are designed for sewing different fabrics, all do the same things, but each of them has some own features. For beginners I recommend to think ahead to sewing stitch set. Buy entry level models that have standard set of sewing stitches. At first steps of learning you need to study basic sewing techniques. Some special options and many stitches will you need only in the future when you will have an experience.
Note: For rare using of sewing machine is enough only a few basic sewing stitches.
Most important feature of sewing machine is method of performing a buttonhole.
First tip for beginner: I recommend to buy your first sewing machine with four step buttonhole. This way of making a buttonhole you can easily control that is important for beginners. And in addition, such models of sewing machines are simpler and are much cheaper.
Pay attention to this when choosing your first sewing machine.
Choose a sewing machine with a simple threading
Thread tensioner is one of important devices of any sewing machine. His two metal discs should to clamp a thread well. Adjusting a thread tension should be comfortable and easy.
Pay attention to this when buying a sewing machine.
Before buying a sewing machine try insert top thread through all its guides. Threading should be simple and easy.
Second important tip for beginner: For beginners is better to choose a sewing machine having mechanical control of all operations. Such sewing machines are more simple and reliable than electronic models and especially than computerized sewing machines.
In addition, such machines with mechanical control are much cheaper.
On this photo you can see an example of such sewing machine. At left is a lever for choosing of stitch type. Using this right knob you can change stitches length. This model sewing machine has simple and easy management.
This model is ideal for beginners or those who rarely sew.
This rod is designed for buttonholes presser foot. It is used when making a buttonhole in one step, for automaticaly back moving of fabric. Choosing modern sewing machine, make sure that it has a one-step buttonhole. This feature can make buttonholes with easy and without mistakes that especially is important for new users.
Before buying a sewing machine pay attention to shuttle
If you just started sewing and decided to buy a new sewing machine you must know the main thing for every sewing machine. This main feature is the shuttle hook type.
Sewing machines of the initial price have oscillating hook. More expensive models of sewing machines are equipped with rotary hook.
Vertical oscillating shuttle hook machines have disadvantages (increased noise and slow speed of work), but at the same time it have advantages also. The firstly it is very reliable. Second -such sewing machine has a small price.
Oscillating shuttle machines mount their bobbin into metal bobbin case which is inserted into shuttle. Oscillating shuttle hook reciprocate through a short arc.
Rotary hook machines hold their bobbin stationary, and shutlle hook continuously rotate around it.
Third tip for beginner: For beginners is better to purchase sewing machines having oscillating hook system when the hook oscillates back and forth.
On this photo you see an example of such a shuttle device.
Sewing machine removable table and others
Removable table of sewing machine is very useful detail on which you need to pay attention to when buying a sewing machine.
This photo shows a not very convenient option. It is better when the table can be folded down like this model Juki sewing machine.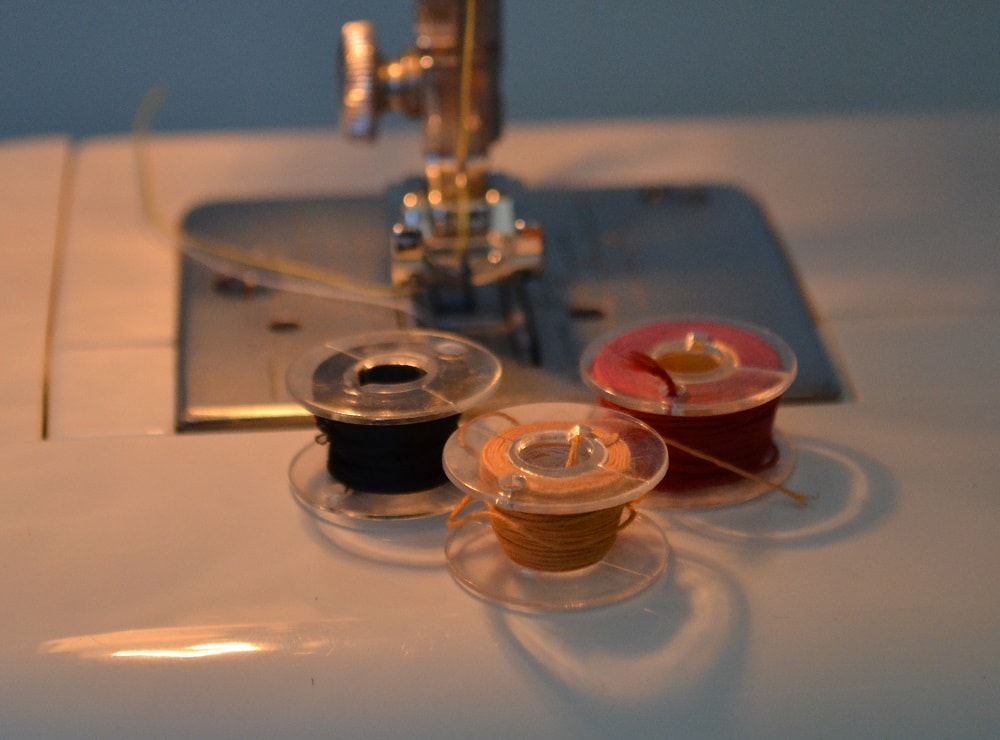 I advise you to use only plastic bobbins. They are easy to rotate into bobbin case, and do not make noise during rotation.
Tips: Buying a new sewing machine you can immediately buy a pack of plastic bobbins.
Each sewing machine has a few presser feet and other tools. Learn purpose and function of each of them.
At the store you can find variety of sewing tools, but for beginners need only some basic sewing tools and equipment.
Tips: Buy additional presser feet and some sewing tools simultaneously with purchase of sewing machine. For example, this seam trimmer will be very useful when making buttonholes.
On this photo you see one step buttonhole presser foot. Before buying it, you need to make sure that your sewing machine can perform this operation. In addition, you should know that sewing machines are able to do this operation have such presser foot in standart kit.
Do not forget periodically to oil and clean a sewing machine.
Once a year, you can remove a bottom cover and to lubricate some internal mechanisms also.
Very rarely but is necessary to check a tension of drive belt. Press your finger into midlle of belt, shown by arrow. Well tensioned belt should deflect about 1 cm.
Adjustment is made by screws securing electric motor to housing a sewing machine.
Common tips for buying sewing machine
Your first sewing machine: what to look for?
When you first started sewing doesn't choose and don't buy an very expensive sewing machine. Computerized models of sewing machines would do everything very good but they must be handled with care. When you first started sewing you do not have yet necessary knowledge and skills.
Moreover, most of all functions of any sophisticated electronic sewing machines not used at all. Therefore, I recommend for beginners to buy a simple sewing machine with a few options and 4-5 presser feet.
The reality is, quality sewing machines are not cheap and I'd recommend you answer on main question: You will sew on a sewing machine constantly? Money that you spent on buying a sewing machine will benefit you?
Entry-level sewing machines will cost from $300-$600.
Related Tutorials and Tips: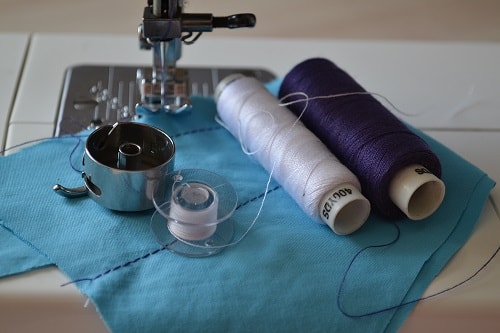 How to Thread a Sewing Machine
More than 30 photos with pro comments help you learn how thread your sewing machine.

How to Use an Overlock Sewing Machine
What a kind of stitch does an overlock Janome 4057 do? Learn how to use a serger and tips for choosing overlock sewing machine.

How to use the coverstitch machine
The coverstitch machine is most used for sewing the clothing made from knit jersey fabrics. Here you find a tutorial how to use the coverstitch machine.

Using and Repair an Older Sewing Machine
In this post you find the manual of old sewing machines like Singer. This universal instruction will help you use and repair old sewing machine.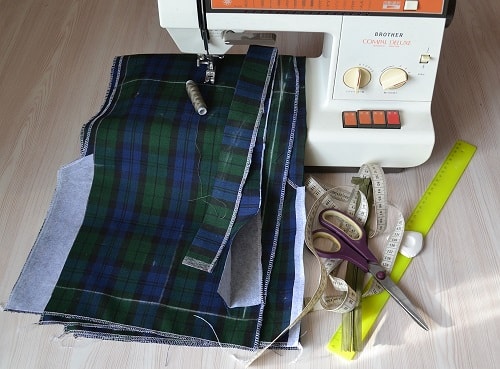 Tutorial How to Make a Pencil Skirt
Learn easy and detailed tutorial how to sew your pencil skirt or any other models of the straight skirts.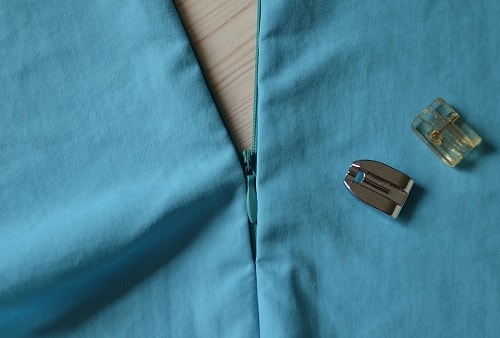 How to Install the Invisible Zipper
Learn how to sew an invisible zipper. Here are steps of installing a zipper with 30 photos and tailor's comments.

How to Cut the Bottom of Jeans
Learn how to restore the bottom edge of your old jeans. In this post you will learn two ways how to cut bottom of jeans at home.

20 Sewing Tips and Tricks for Beginners
Want to learn the secrets of professional tailor? In this case you need to read this post containing 20 sewing tips and tricks for beginners.