Industrial Fur and Sheepskin Sewing Machine
For sewing natural fur skins are used special sewing machines. They are designed to produce whipstitch (overseam) using that you can to do tight welted seam to flat butted seams of any kinds furs and sheepskins.
There are many sewing machines models for perfect overseam stitching on all types of materials including furs, genuine leather, acrylics materials, pile fabrics, knits fabrics etc.
Some models of fur sewing machines can sew very thin furs skins. Some models fur machines are used for sewing sheepskins (or similar furs) only. Some of them are used for sewing very thick fur skins and genuine leather.
At home conditions a middle-class sewing machine is used only, that is designed for sewing foxes furs, skin of minks, raccoon furs etc.
Note: Home type of fur sewing machine is used one thread only.
How to thread a fur sewing machine
To thread most fur sewing machines needs one spool only. To thread the fur machine correctly follow this step-by-step instruction.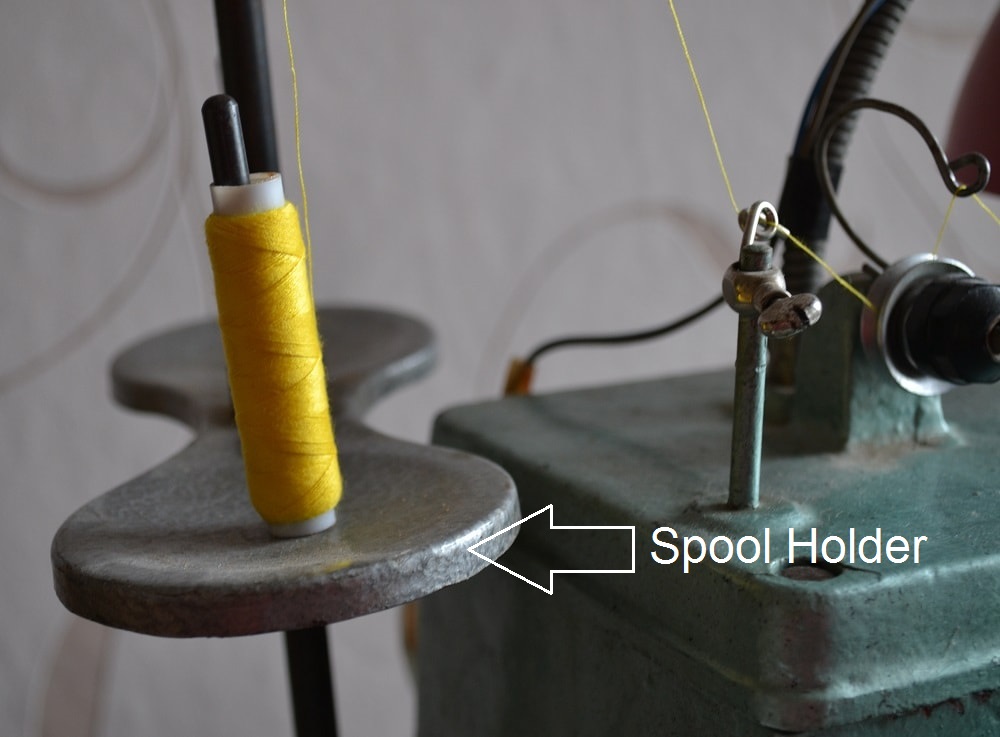 1. Put a coil of thread on spool holder first.
2. Insert through both thread guides and pass it between tension discs.
3. Insert the thread through front pigtail. Now you need pass it through a slit in needle bar tension plate (screw-like).
4. To do it turn a hand wheel until the needle bar tension plunger opens (screw move to left). Holding the thread tight and it will goes there itself.
5. Holding the thread tight you need to open feed dog (two discs). Now pass the thread under needle bar so that it get into this thread slot (see photo).
6. Pull a little the thread from tension plunger forward and pass it into wire hook.
7. Take a thread end with tweezers.
8. Move front disc towards you and pass the end of thread into needle eyelet.
Setting a needle on fur sewing machine
Type of sewing needles for fur sewing machine is special. They have round shank (industrial type a needle). They are shorter than usual industrial needles (not always). Look in your manual what type of needles is suited for your fur sewing machine.
Note: If you have little experience of working on fur sewing machine you will have to change the needles often. Sewing of fur skins without skills leads to frequent breakage and bending of needles.
Now let's try replace needle correctly.
Using a belt wheel (turning by hand) move away a looper from needle area.
Now you need open the feed dog discs.
Hold new needle with fingers you need to insert it into needle bar slot.
On back of slot is stopper. You need place a needle shank back as far as it will go.
Now you must tighten this clamp screw with flat screwdriver.
Don't tighten a shank of needle very hard. Using big screwdriver you can damage fine screw thread.
Note: Into the slot of needle bar may be a piece of old broken needle. Take it away before setting new needle.
Caution: The looper must swings over scarf of needle, therefore set the needle short groove face up. The fur sewing machine will not sew properly if needle is inserted otherwise, when the needle short groove is on reverse side from looper.
Wheels, needle plate and needle bar
1. Setting of wheels.
Set back wheel up to the needle, leaving enough room for cotton to pull freely between the needle and the back wheel.
Set front wheel a fraction below the back wheel allowing for pitch in needle bar.
2. Setting a needle plate.
Turn the needle plate to meet needle. Set needle to run straight into needle plate slot, making sure that there is about .033 plays between the needle and the bottom of needle plate slot. When this is set, proceed to follow step.
3. Setting of needle bar.
Needle bar should be set out to approximately 1/32 inch away from rim of back wheel and must appear to be aligned straight. Then tighten needle bar yoke screws. Check needle penetration seeing that the needle when entering material used will enter straight not striking the sides of needle slot.
Setting a looper
When you have the needle bar set well, set the looper in position so that it when crossing over the needle plate and the eye of the needle has passed half way across the length of the shoe of the looper (see diagram 1).
Turning the belt wheel to turn the looper toward the back wheel, make sure that when the looper comes against the side of the needle that it is not striking the needle (only brushing against it). See diagram 2.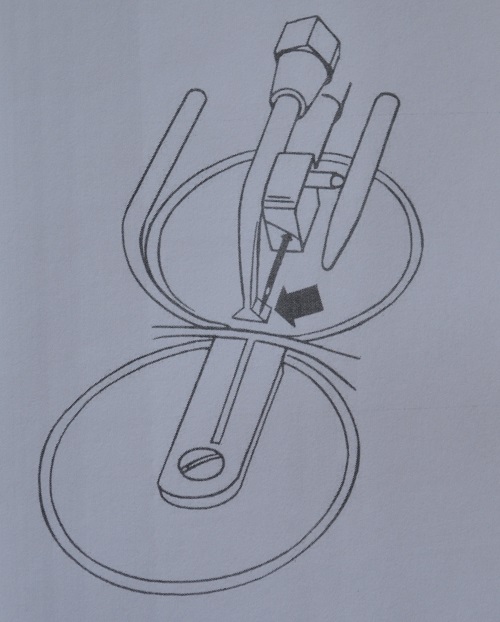 Setting of looper in back stroke motion the looper heel goes under the needle. Make sure that the needle is not protruding. By following this looper setting, the needle will be in perfect position to lock the stitch before penetrating the material for the next stitch.
Setting of fur sewing machine you can see: Bonis fur sewing machine manual PDF.
Tips how to clean and make minor adjustments
When operating your fur sewing machine often you need clean and adjust it periodically.
Below are list of minor adjustment which you can very well do yourself.
1. Check front and back discs and see that it is running smoothly and not clogged with fur hair and small pieces of fur skin, threads, dirt, etc.
2. Periodically is needed remove needle plate, take wheel apart, and wipe off clogged wheel, rollers and stud.
3. Make sure that the needle plate slot is free of ridges and any foreign matter.
4. Look on the needle, it not be bent.
5. Note: The between the thread tensioner discs can accumulate the strips and scraps of threads. This can lead to skipping and weak stitching and thread breakage. Take it apart and clean discs and other detail.
By doing this recommendation periodically and timely you will sew the furs without problems.
6. Be sure that thread move in the eyelet of needle freely. When thread is very thick and needle thin, the thread can break. Size of thread need select by the thickness of the needle!
7. If your fur sewing machine make skipping constantly see how swings the looper near the eyelet of needle. The tip of looper must go near the eye, not more than 1 mm.
To fix it you need to loosen two screws inside housing the machine that hold the needle bar yoke. Push back needle bar a little taking into account the above-mentioned parameter (1 mm).
How to oil the fur sewing machine
The fur sewing machine should be oiled regularly, at least one time every month. If you use fur machine (at home) every day is recommended to oil every week. Continuous use of industrial sewing machine requires constant lubrication throughout the day.
See also: How to oil and clean a serger.
Be sure to put oil in joins under top cover which are indicated with arrows.
Industrial machine can be used at home
The industrial fur sewing machines have a table and special industrial clutch motor. The feed wheels are moved apart by pressing the pedal. But using the tips below, you can change the industrial model for home use.
Hand lever for opening the feed wheels can be fastened to the end of shaft that open the front wheel, as shown on this photo.
Make such a bracket and you can connect to the fur sewing machine the household sewing motor.

Using the Fur and Sheepskin Sewing Machine
In this post you will find tailor's tips how to sew natural furs using an industrial fur and sheepskin sewing machine at home.

How to Use the Coverstitch Machine
The coverstitch machine is used most for sewing the clothing that are made from knit fabrics. Here you find tutorial on how to use the cover stitch machine.

How to Choose Your First Sewing Machine
Buying a sewing machine is an important event for beginner seamstress. Here are some helpful tips on how to choose your first sewing machine.

How to Use an Overlock Sewing Machine
What a kind of stitch can do an overlock Janome 4057? Learn how to use modern model a serger and tips for choosing overlock sewing machine.

How To Use Computerized Sewing Machine
If you will buy a computerized sewing machine you get many sewing advantages. Here you will learn what features have the modern models of sewing machines.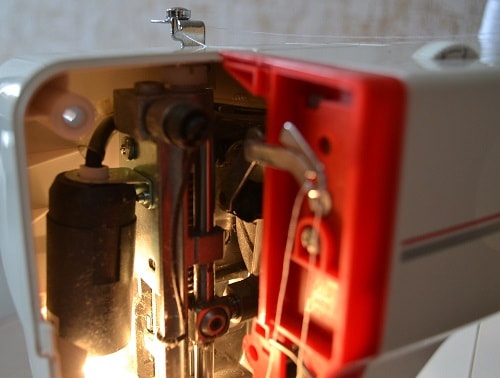 How Does the Home Sewing Machine Inside
Do you want look into the sewing machine? In this post you can see how to works this mechanism and to see all its inner parts.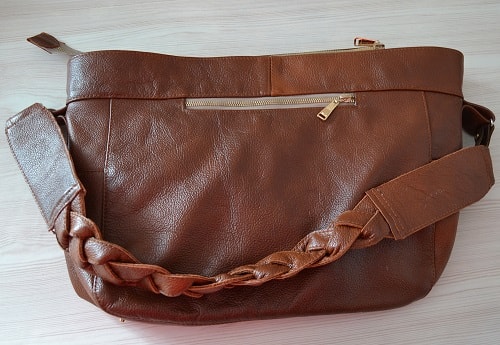 Leather Tote Bag with Zipper Tutorial
This tutorial help you make a women's bag with zipper and two straps. Using these pro tips you can sew tote bag for you or for sale.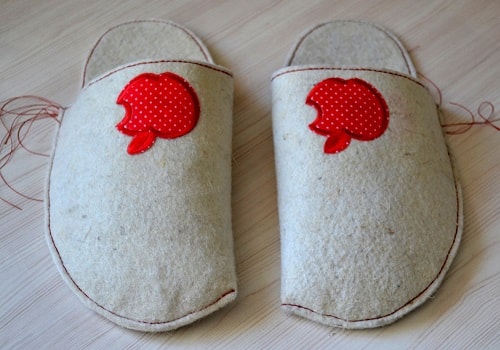 How to Make Home Slippers with Free Pattern
For sewing these slippers you can use felt or leather scraps of old things you have around the house.

Recovering the Office Chair Seat
Tips how to replace the fabric of an office chair's. Here you learn how to repair the chair and give a new life to your old office chair.