How to Draft Straight Skirt Pattern
In this lesson you will learn how to draft a straight skirt pattern. This is basic scheme of skirt sloper. Using this basis pattern of straight model a skirt you can add any design elements and make some changes that help you to draft other types of skirts.
Note: All parts of this pattern a skirt there are no seam allowances.
An experienced tailor teaches you to draft a pattern of straight skirt. This free method can be used to drafting of any sizes straight skirts.
See also another tutorial how to draft: pencil skirt pattern.
Tips how to take your body measurements
Before drafting a pattern you need to take your body measurements: waist; hips; and length of a skirt.
To do horizontal measurements correctly, you need tie yarn around your body at both horizontal levels (waist and hips).
All vertical measurements (between your waist and hemline) are measured on side seam a skirt.
Length a skirt (between your waist and hemline) also is measured on side body.
During waist and hip measuring you need tie the tape snugly, but not too. In addition to it, you do not need to change natural position of your body and do not to involve your stomach.
Now start to draft a straight skirt
At first step you will to draw a quadrangle based on your measurements.
You need to make a rectangle, one side of which is equal to length of your skirt. Second side - a circumference of your hips plus 1 cm.
Put down 20-22 cm and draw a horizontal line (hip line). At this stage the drawing is ready to build a pattern straight skirt.
How to draft a skirt pattern
Firstly, you need draw a vertical line dividing the pattern of skirt into two parts (front and back).
Now you need (from this point) move to left by 1 cm and to mark it with letter (T).
Now you need to find two points T1 and T2 using this calculation :
(1/2 Hip + 1) - (1/2 Waist + 1) = N
N - (3 +2) (darts) = E
E/2 = T1T = T2T
Both segments (left and right) from point (T1 and T2) must be divided in half and be marked with points preferably.
In my drafting these points are not marked, so as not to clutter up the pattern a skirt. But if you wish, you can mark them with any letters, such as B1 and B2.
From these points draw two vertical short lines (darts). Draw the darts according to these calculations.
Now we need to correct position of a waistline on both halves of the skirt. On back part a line will be shifted down by 1 cm. On the front part the line will be shifted down by 1.5 cm.
In my drafting both parts of waist line are straight, but you need to make them slightly "bulging" toward the top of darts.
Now you can build darts of a skirt.
Note: you need to do an angle under the upper part of darts as shown in this scheme.
From points T1 and T2 you need to draw curved side lines down, as shown.
To do these lines smoothly need to make a special calculation. But it is not mandatory. You can draw these curves arbitrarily.
If you are beginner you can add in this place bigger allowances (2 - 3 cm). After fitting a skirt these areas can be changed and cut off excess areas.
Now drafting the pattern of straight skirt is completed and you can to cut fabric.
Don't forget add seam allowances before cutting a fabric!
Sewing tips for beginners
After drafting the pattern is necessary to make patterns other details of skirt and a waistband. Be sure to make the pattern of these items, they will help you to accurately calculate fabric consumption.
Front part a skirt not has connecting seam. Therefore, before cutting fabric you can fold it in half (face to face). Along this fold line you need attach front part skirts pattern.
Back a skirt has two parts. On back side pencil skirts usually is done a vent (vertical slit)on bottom and is inserted an invisible zipper on top part of skirt.
Tips: Test any pattern before cutting fabric. If you draft pattern a skirt for first time you need sew a straight skirt, using this pattern, from an inexpensive fabric. After fitting an "experienced" sample and followed by correcting you can sew a skirt exactly according to your shape.
In addition to all it, you should know that any pattern of skirts from online resource cannot take into account a few individual characteristics of womens figures. For a more precise pattern a skirt you need make a fitting it on your figure. To make perfect pattern of skirt is needed to do improvements to the pattern. Only after these steps your skirt will be perfect fit on your figure.
Seam allowances
Seam allowances: back middle seam and waist - 1.5 cm;
two side seam - 2 - 2.5 cm;
hem 3 - 4 cm.
These recommendations are for beginners!
Wide smooth surface of a table is recommended. But if you not have such wide and long table use any other surface. The fabric can be decomposed on floor your hall.
Tip for beginners! Fasten fabric edges with pins or clips before cutting.
How much needs a fabric for sewing a pencil skirt?
How much you need fabric for sewing a pencil skirts or any other models of straight skirts?
This pattern of skirt fits into "one length" plus 10-15 cm. If provides deep inverted pleats or additional finishing elements such as pockets, fabric's consumption is increasing.
You need more fabric if total measurement "Hip" is greater than 130 cm (full circumference around hip). In such case require "two lengths" of fabric, plus 10-15 cm to making a waistband with buttonhole.

How to Draft a Pencil Skirt Pattern Direct on the Fabric
In this lesson you will learn how to draft a pencil skirt pattern without paper. We will build a pattern skirt scheme directly on the fabric.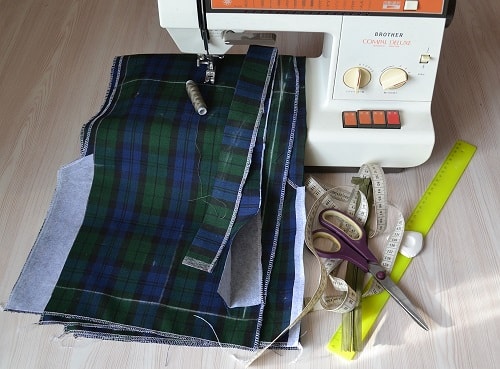 Tutorial How to Make a Pencil Skirt
This is detailed tutorial on how to sew your pencil skirt or any other models of the straight skirts.

How to Make Pleated Skirt of Striped Fabric
Here is sewing tutorial how to make pleats of striped fabrics. These steps with photos and comments help you sew a pleated skirt.

How to Hem Knit Fabric with a Serger
Hem pants or skirt from stretchy knits fabrics is always difficult. Try my own easy way how to hem knits fabrics using a serger only.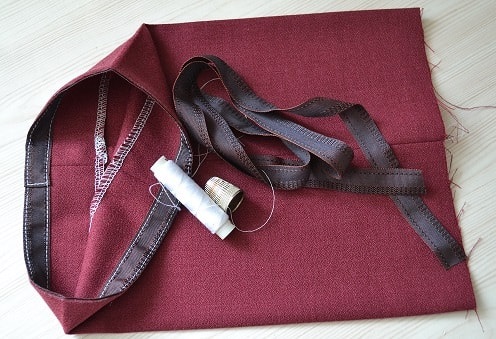 Learning how to hem your own pants and skirts
There are some ways how to sew up your hems. I offer you universal way that can use for hemming your pants and skirt or dress.

Waistband with an Elastic Casing
An elastic casing is easy way how to make a waistband for the skirt. A casing is folded fabric that holds into an elastic tape.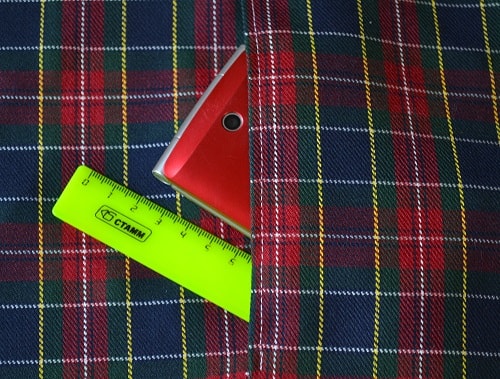 How to Make Pockets to a Dress or Skirt
Learn how to add inner pockets to a dress. Using this sewing tutorial you will learn how to make pocket for dress or skirt correctly and easily.

How to Sew an Elastic Waistband
In this tutorial I show you how to make an elastic waistband for skirt or knit shorts. Here you get the tips how to sew waistband casing easily and professionally.