How to Use Your Sewing Machine
The entry-level sewing machines have very simple handling. But for beginners all sewing machines look frighteningly and they don't know some simple things: how to turn on, thread, change needle etc.
Special for beginners we wrote this tutorial with tips how to use your sewing machine. This guide is suitable for any models sewing machines entry-level having a vertical oscillating shuttle hook system.
Here you find an instruction how to use your sewing machine. How to thread a sewing machine and other basic knowledges for beginners.
You want learn how to sew on sewing machine? But you don't know how the sewing machine works. And you believe that learning to sew is very difficult. Look this video with easy tip for beginners and you change your mind about it.
Connect a sewing machine to an electrical network
First, you need connect to sewing machine body a foot control pedal.
Next, plug power cord to an electrical outlet.
Turn on power switch that is located on right side of sewing machine body.
Note: Some models have another location of the power switch.
When you turn on the power switch appears lighting of workplace.
Lighting lamps of home sewing machines
Lighting lamps are used in home sewing machines can be two types. On old model to remove lamp you need to unscrew it.
The modern model are used other type a lamp.
To remove it is needed turn it a little around and pull down.
See more: Changing a lightbulb in sewing-machine.
How to remove a spool from bobbin case
Now you need thread a bobbin. Pull a removable table to left side.
Open a cover of shuttle and bobbin compartment.
Take this hinged latch and pull out bobbin case from shuttle assemble.
Release the latch and bobbin will fall easily.
How to thread a bobbin
It is time for threading a bobbin.
Put a spool on this metal pin. This rod is part of bobbin winder.
Look! It has a wire retainer. It must pass through slit of bobbin case.
Now you can to start threading a bobbin.
Find all thread guides and wire hooks. You must insert top thread through every of them.
The end of the thread is better insert through a hole that is on both sides of bobbin.
This is scheme of threading a bobbin.
How to turn on thread winder
Now you can turn on the bobbin winder. Pull to the right the bobbin till it clicks.
Plastic limiter having oval shape can be adjusted. The different position of this oval limits number of the thread in the bobbin.
Place a spool into bobbin case
Insert bobbin with thread into bobbin case. End of thread must be placed under metal plate, as shown.
Open a hinged latch of bobbin housing and holding with two fingers and put it back into sewing machine.
Close the cover of shuttle device.
Insert the removable table to the body of sewing machine.
Threading a sewing machine step by step
Now you're ready to thread your sewing machine. Needle thread must pass through a thread take-up lever and other guides and hooks.
On the front covers of many sewing machines are marked numbers typically. Numbers and arrows help you thread a sewing machine step by step.
Do not miss a single fastening thread guide. All of them affect the quality of the stitching.
At end step, insert the thread into needle eye.
Preparation a sewing machine for work
Before you start sewing fabric you should pull bottom thread through hole of needle plate.
Pull down needle into hole and lift it up. Make this moving with turning a hand wheel.
Hold the needle thread in your left hand slightly taut towards you. So way you can pull out bobbin thread.
Now you need to lift up presser foot using this lever.
Lifting bottom thread must be done manually by turning the handwheel.
For pulling up the bottom thread the needle should be lowered only once.
Pull both threads through central slit of presser foot.
Recommendations for sewing fabrics
The first stitch will be better make by hand, by turning a handwheel.
Using these levers you can set needed stitch length and select type of line.
On this diagram you can see a few samples of the stitches types.
This is top thread tensioner. It device is needed for adjusting a tension of needle thread.
The reverse lever is applied at begin and end of stitching to fasten stitch line.
I hope these tips will help you understand how to use your sewing machine.
What causes this timing belt to break? Excessive force caused by sewing fabrics not intended for this type of sewing machine. For example, if you sew coarse tarpaulin on household sewing machines, sewing genuine leather materials, etc. For such fabrics, there are special industrial sewing machines.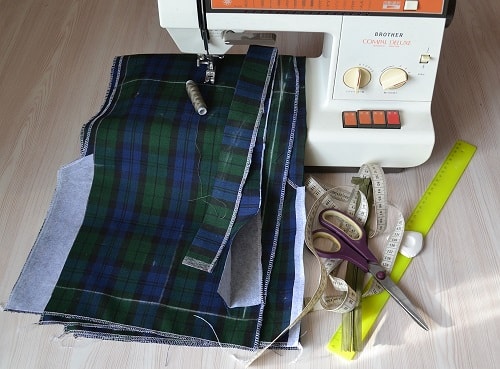 Tutorial How to Make a Pencil Skirt
This is easy and detailed tutorial how to sew your pencil skirt or make any other models of the straight skirts.

How to Cut the Bottom of Jeans
Learn how to restore the bottom edge of your old jeans. In this post you will learn two ways how to cut bottom of jeans at home.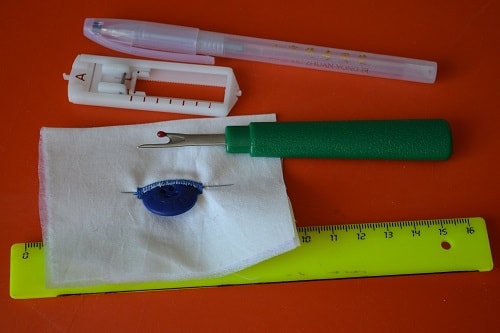 How to Sew Four Step Buttonhole
All modern sewing machines come with the ability to do buttonholes. In this tutorial you will learn how to do four-step buttonhole.

Bobbin Case Device and Troubleshooting
Bobbin case is an important part of the sewing machine. Here you find the device description and troubleshooting tips for problems of bobbin case.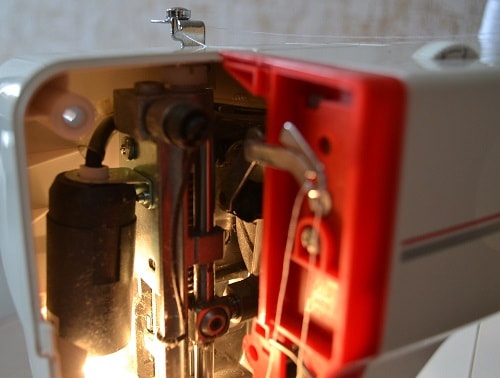 How Does the Home Sewing Machine Inside
Do you want look into the sewing machine? In this post you can see how to works this mechanism and to see all its parts.

20 Sewing Tips and Tricks for Beginners
Want to learn the secrets of professional tailor? In this case you need to read this post containing 20 sewing tips and tricks for beginners.