Industrial Sewing Machine Textima 8332
In this post you find manual for industrial sewing machine Textima 8332 that performs straight stitches only.
Walking foot sewing machine
Main feature of this industrial sewing machine is walking foot, that comprises two independent presser feet. Industrial walking foot sewing machines are used for sewing fabrics without displacement of the upper fabric during sewing.
A one part of walking foot (1) press the fabric to the teeth of the feed dogs, second part (2) move the fabric like the feed dogs. This is possible due to the special costruction of presser foot bar. It can move independently of the movement of the feed dogs. On its sole are teeth like feed dogs.
If necessary, the walking presser foot can be replaced and set an ordinary presser foot.
Not all models of sewing machines of Textima brand can have a walking foot. This possibility is indicated in its modification printed on a special plate or in passport.
All walking foot sewing machines have two reverse lever having knobs for adjusting length of stitch.
One knob (right) is for adjustment of feed dogs. Second knob (left) is used for adjustment of work of walking presser foot.
Hook system of sewing machine Textima 8332
Industrial sewing machine Textima 8332 has a vertical rotary hook system. How such this hook works and how to to set the timing, see in an article:
Rotary hook of industrial sewing machine.
Lever to lift a presser foot
Another feature of this industrial sewing machine is the way of lifting a presser foot. Textima 8332 not has the standard reverse lever, like an usual home sewing machine.
Instead it, the knee lift lever is used. In this socket, a special lever is inserted which is controlled by the knee.
This knee lift lever device is mounted under the working surface of sewing table where is mounted clutch motor also.
A device for winding a bobbin thread
A device for winding a bobbin thread is mounted right in front of you.
The winding of the thread is automatically switched off.
How to thread a sewing machine
You need correctly to thread your sewing machine. The slightest inaccuracy will appear at the high speed work of sewing machine. Most often, the top thread will simply break off.
See how to thread correctly Textima 8332 here: Thread tension regulator of industrial sewing machine.
The thread take-up lever of industrial sewing machine have a hole. Take the magnifying glass and carefully examine it. Industrial sewing machines work for many years in a constant mode and this hole can get damages (grooves). The sharp edges of grooves can cut top thread.
Thread through all guides. Each of them has its own meaning and will affect the thread tension.
Rubber industrial timing belt
Why does this industrial sewing machine work very quietly? Because Textima 8332 has a toothed belt.
Rubber industrial timing belt connects the lower shaft to the upper shaft (main shaft).
Sewing needles for Textima 8332
Sewing needles for Textima 8332 have your own characteristics. You need to use types of needle which are indicated in the passport of the sewing machine only.
Sewing machine lubrication system
Industrial sewing machines often have a forced lubrication system. The oil pass to mechanismes under pressure created by an oil pump.
Textima 8332 has another type of lubrication system. Textima does not use oil pump.
Oil is manually filled into tanks and from them it feds to the mechanisms.
The oil level is conveniently controlled through a glass window.
By using this screw you can to increase or decrease the oil.
The oil is charged into the tank through this opening. Pour oil into the reservoir is best with using a conventional medical syringe.
Remove the screws marked in yellow and red. Using a syringe, drop a little oil in these holes.
At the bottom of the sewing machine, there is a compartment with a foam pad that absorbs oil.
Note: The oil on this foam pad is poured from above. It is not necessary to remove this cover.
Add a few oil to all these mechanisms well also.
Remove the screws marked in yellow and red. Using a syringe, drop a little oil in these holes.
Remove this cover.
Under cover is the most important mechanism of the sewing machine which must be lubricated regularly.
English isn't my first language, so please excuse any mistakes and help correct them.
E-mail for sending is on the contact page.

Tips for Using your Sewing Machine
Here you find top tips and tricks how to use your sewing machine.

Industrial Sewing Machines Characteristics
If you do not know for what is an industrial sewing machine you need read this post. Here are some main characteristics of Typical industrial sewing machine that performs straight stitches only.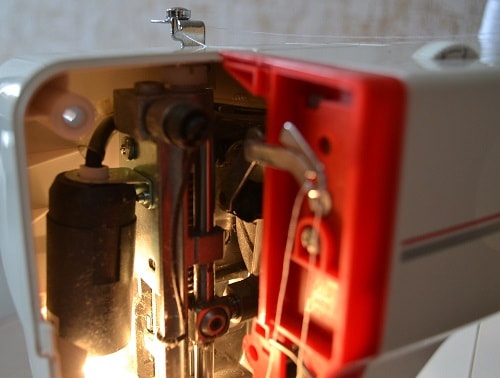 How Does the Home Sewing Machine Inside
Do you want look into the sewing machine? In this post you can see how to works this mechanism and to see all its inner parts.

Bobbin Case Device and Troubleshooting
Bobbin case is an important part of the sewing machine. Here you find device description and troubleshooting tips for problems of bobbin case.

Industrial Fur and Sheepskin Sewing Machine
In this post you will find operating instruction of the industrial fur and sheepskin sewing machines.

Sewing Machine Problems and How to Fix Them
Each sewing machine has some problems periodically: bunching thread, breaking needles or skipping stitches. Learn how to fix sewing machine at home by himself.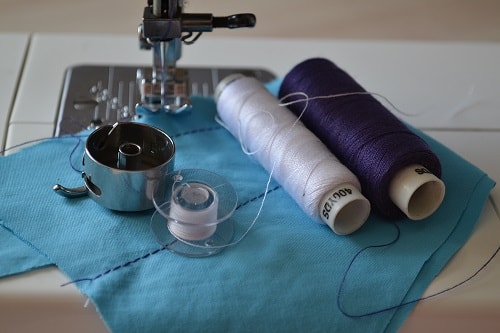 How to Thread a Sewing Machine
This is universal tutorial for threading any sewing machines and winding a bobbin.

Drafting Women's Pants Patterns (Basic)
If you will draft this pattern of women's pants you will have a basic pattern which can be used for drafting any models trousers, including the jeans and other.

Drafting Dress Pattern (Basic)
If you will draft your own dress pattern you need use this tutorial. Make this basic dress pattern which and you can to build patterns of any other dress models.

How to Draft the Half Circle Skirt Pattern
In this post you will find free skirt pattern with step-by-step tutorial on how to draft the half circle skirt pattern.