Sewing a Natural Fur by Hand Stitch
If you want to sew any natural furs or genuine leathers qualitatively and professionally you need to use special a fur and sheepskin sewing machine. But at home, you can sew the fur skins together manually, using hand needle and special stitch.
In this post you will find a tutorial how to sew any natural fur pelts by hand stitching.
Tools for sewing of furs by hand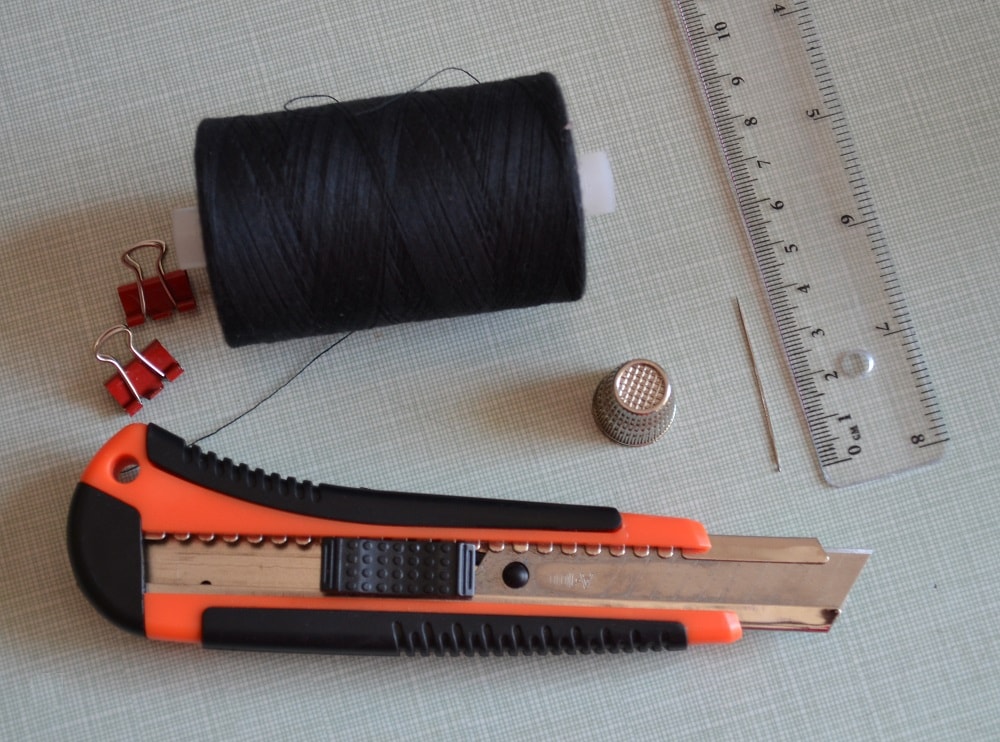 To work with fur pelts are required some special tools and materials. For simple joining of edges fur skins you need have sharp knife, thimble, clerical clamps and short hand needle with thin strong thread.
Before stitching the furs you need to align edges of skins first. Draw straight lines closer both edges of fur skins and cut along them using very sharp knife.
Note: Any furs cannot be cut with scissors.
Fur skins can be sewn on condition that directions of the hair on both parts of pelts is the same directions. In addition, a color and length of fur hair of both pelts must match also. In this case, a joint of several pieces of furs will be imperceptible.
Clip both furs edges together before stitching
Now you need to fasten both edges of skins together with usual office clamps, as shown.
When you will sew a long seam by hand, these edges of furs pelts can to shift relative to one another. To avoid this, you must draw marks on both edges of furs, with distance between marks 5 - 10 cm, as shown.
During sewing furs by hand you should to check their coincidence constantlye.
Start sewing the furs skins
For sewing fur by hand you need use short thin needle. Sewing thread must be thin and strong.
Note: Do not stitch any furs skins with double folded threads.
For sewing furs and for sewing with genuine leather by hand you need use a thimble.
Now it's time to sew the furs together. Start sewing in the direction from right to left. Make first needle prick, towards you, as shown.
For sewing furs is used a special hand stitch
Do not make a knot at thread end. Leave a small piece of thread and start to make a first stitch.
Now you learn main thing rule of making fur stitch by hand. Hand sewing needle must pass the same hole twice.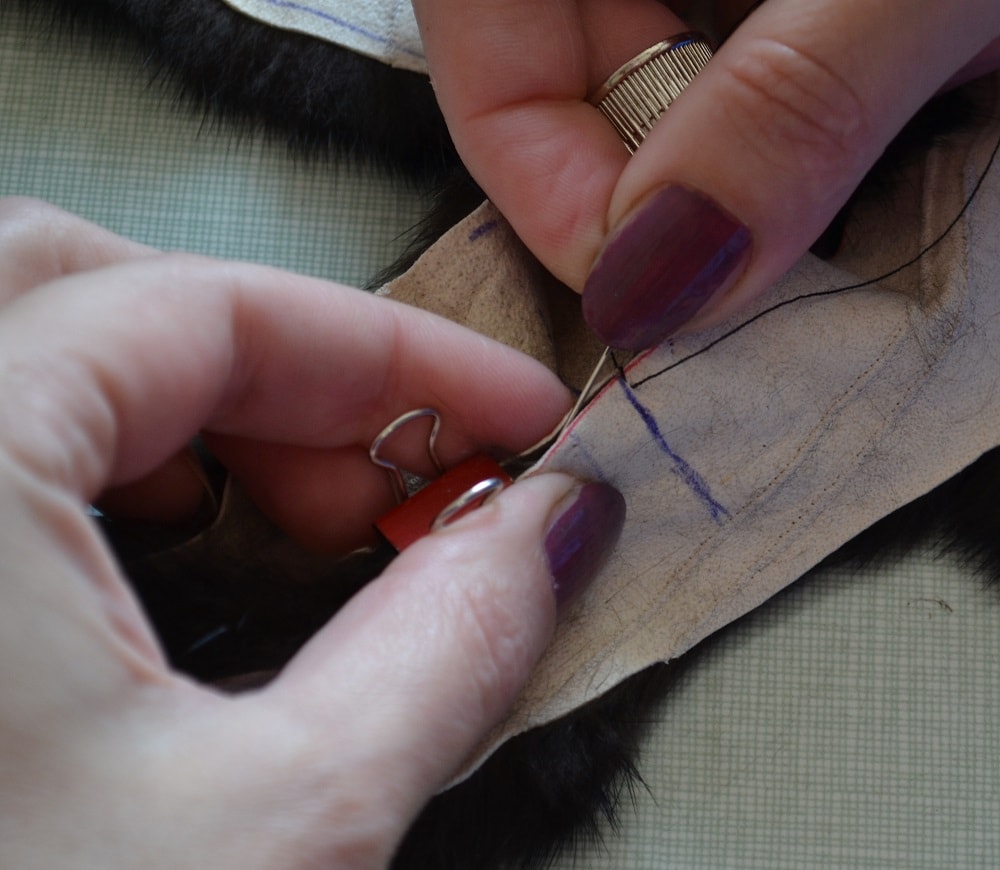 The hair of furs pelts can be poked into the seam with a needle, as shown.
Now you need make second stitch
First you need make a little step at left from first hole stitch on 3-4 mm (stitch length). Now you need to prick with needle both edges of furs skins again.
Tighten this stitch as shown.
Now the needle must pierce the same hole again.
As a result, you'll get the reliable seam made by hand.
Comb the furs hair to hide the joining place of furs pelts.

Using the Fur and Sheepskin Sewing Machine
In this post you will find tailor's tips how to sew natural furs using an industrial fur and sheepskin sewing machine at home.

How to Use the Coverstitch Machine
The coverstitch machine is used most for sewing the clothing that are made from knit fabrics. Here you find tutorial on how to use the cover stitch machine.

How to Choose Your First Sewing Machine
Buying a sewing machine is an important event for beginner seamstress. Here are some helpful tips on how to choose your first sewing machine.

How to Use an Overlock Sewing Machine
What a kind of stitch can do an overlock Janome 4057? Learn how to use modern model a serger and tips for choosing overlock sewing machine.

How To Use Computerized Sewing Machine
If you will buy a computerized sewing machine you get many sewing advantages. Here you will learn what features have the modern models of sewing machines.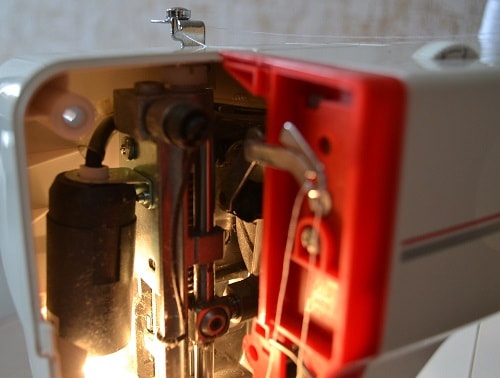 How Does the Home Sewing Machine Inside
Do you want look into the sewing machine? In this post you can see how to works this mechanism and to see all its inner parts.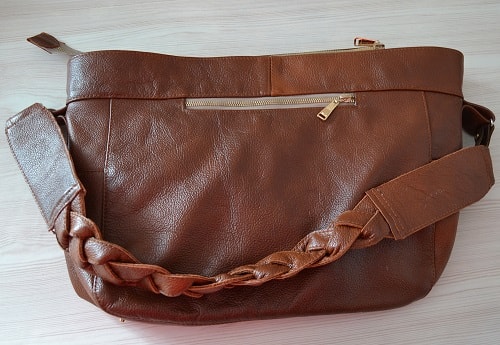 Leather Tote Bag with Zipper Tutorial
This tutorial help you make a women's bag with zipper and two straps. Using these pro tips you can sew tote bag for you or for sale.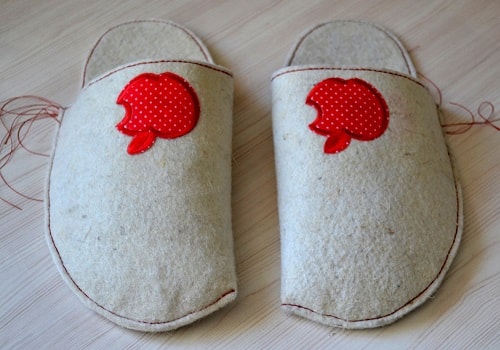 How to Make Home Slippers with Free Pattern
For sewing these slippers you can use felt or leather scraps of old things you have around the house.

Recovering the Office Chair Seat
Tips how to replace the fabric of an office chair's. Here you learn how to repair the chair and give a new life to your old office chair.