How to Adjust Sewing Machine Hook Timing
Hook timing is main parameter of correctly working any sewing machine. The hook timing is main cause of most defects of stitching, for example, such as skipping stitches. To avoid such defects and make a good creating stitch requires set an exact sewing machine timing.
Here you will find a few tips on how to adjust sewing machine hook timing.
Remove a presser foot and needle plate
If you think that your sewing machine has hook timing problems you need to remove a presser foot first.
Next, remove a needle plate.
Parts of shuttle mechanism
Disassemble the shuttle mechanism. On this photo shown all parts of oscillation shuttle mechanism.
It is not necessary to unscrew the screws of feed dog and pull out it. I did it so that you could see better how to adjust the sewing machine timing.
All details I recommend to lay neatly in one place, so as not to lose anything.
How interacts a sewing needle with a hook tip
On this photo the needle and tip of hook have two extreme positions.
The needle has bottom most position.
Hook tip is in an extreme left position.
The hook tip has leftmost position.
Any types of sewing machines including overlock sewing machine have such technical concept as a needle bottommost position.
The sewing machines having vertical oscillating shuttle hook system have and another technical concept - a hook tip leftmost position.
The sewing machines having rotary shuttle hook system do not have an extreme left position of hook tip.
If you have an old sewing machine having vertical oscillating shuttle hook system you need start the adjustment sewing machine timing from checking a needle and hook extreme positions.
Sewing machine timing parameters
Switch your sewing machine to straight kind of stitches.
Turn a balance wheel by hand and set a tip of hook close to needle, as show.
If distance from top edge of eyelet of the needle to the hook tip is within these limits, then you do not need to do anything.
You should know that all sewing machines performing stitching zigzag need to be adjusted in three needle positions.
So set zigzag line to widest position and set a needle in left position.
Check a distance from needle eyelet to hook tip. This parametr must be greater than in center position of needle (straight line).
Now set the needle in right position of zigzag stitch. The hook tip should be slide above the eye of the needle.
This distance is less than in center position of needle, but it must be at least 1 mm.
Gap between hook and needle planes
Gap between hook and needle planes is last parameter of adjustment of sewing machine timing.
The gap should be minimal. But in any case, a tip of shuttle hook should not strike the needle. Otherwise, needles will bend and shuttle hook tip will be blunt.
How to adjust the needle and shuttle hook positions
Needle bar has adjustment screw. If you unscrew it, the needle bar can be moved up or down.
To find this screw you need to remove a front cover of sewing machine.
To adjust position of hook, it is necessary remove a cover from bottom of sewing machine.
Note: Do not sew rough fabrics and materials on a home sewing machine, such as jeans or natural leather. Many sewing machines have plastic gears and their teeth can be damaged.
On this photo with arrows indicates screws holding gears of shuttle hook.

Sewing Machine Problems and How to Fix Them
Each sewing machine has some problems periodically: bunching thread, breaking needles or skipping stitches. Learn how to fix sewing machine at home by himself.

Tips for Choosing a Sewing Machine
Here are tips how to choose your first sewing machine. A few key features of sewing machines you need to know necessarily.

Bobbin and Top Thread Problems
If your sewing machine keeps breaking top or bobbins thread this tutorial help you troubleshoot these problems.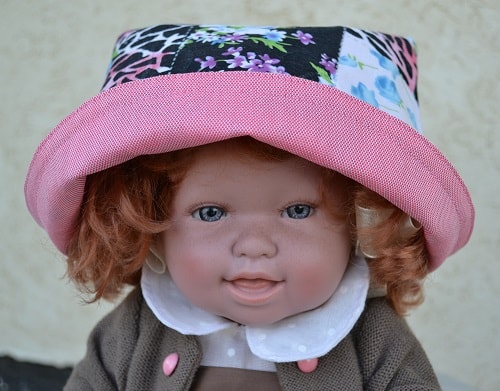 Girls Summer Hat Tutorial
This summer kid's hat looks fine and will be good to protect your baby head from the sun. Try sewing this girl's sun hat using these photos and comments.

How to Make Alphabet Letter Pillows
These are steps of sewing an alphabet letter pillow. You will learn how to make the most difficult form of pillows - alphabet letter A.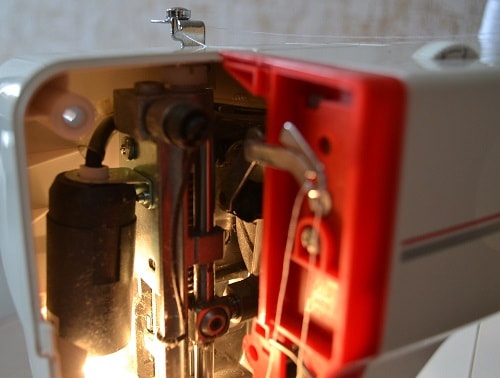 How Does the Home Sewing Machine Inside
Do you want look into the sewing machine? In this post you can see how to works this mechanism and to see all its parts.

How to Use an Overlock Sewing Machine
What a kind of stitch does an overlock Janome 4057 do? Learn how to use a serger and tips for choosing overlock sewing machine.

What's inside Sewing Electric Motor and Repair Tips
Look what is inside the sewing electric motor. These photos help you understand how to clean and fix an electric motor of home sewing machine.

20 Sewing Tips and Tricks for Beginners
Want to learn the secrets of professional tailor? In this case you need to read this post containing 20 sewing tips and tricks for beginners.