How to Fix Sewing Machine at Home
Each sewing machine has some problems periodically: bunching thread, breaking needles or skipping stitches and others. Learn how to fix common problems of sewing machine at home. Using these free repairs tips you can fix many of them by himself.
Common reasons for breaking an upper thread
1. First thing you need to do - check upper thread. Be sure that thread is installed correctly and pass through all threads guides.
2. Needle thread might get tangled on spool pin or on some threads guides.
3. The simplest reason of breaking a thread is - upper thread tension is too tight.
4. If you will be use big cone coil you must ensure correctly threading. Thread with cone coils can to fall down and to tangle. Don't use big cone coils for threading home sewing machines. Use them for threading a serger or for coverstitch machine only.
5. Sewing needles should be sharp always. If the needle is bent or not sharp then upper thread will be break.
6. ?ombination of needle size, thickness of fabric and thread is selected incorrectly.
Common reasons for bobbin thread breaking
1. Lower (bobbin) thread is tangled into bobbin case or on shuttle hook.
2. Make sure that a bobbin case is installed into the shuttle hook device correctly. Note, that when inserting a bobbin case, should be audible click. 3. Lower thread tension is too tight. Don use thick size thread for winding a bobbin. Size (thickness) of spool thread should be less (or the same) than a needle thread thickness.
4. Check that a lower thread is correctly threaded.
Sewing machine is skipping stitches
1. Sewing needle is inserted incorrectly. This often occurs in old sewing machines like Singer. If you do not know how to properly install a needle use this simple rule: Shuttle hook tip should pass along side of needle where is scarf (flat short area).
2. Damaged or worn sewing needle is common reason of apearing of skipped stitches.
3. Combination of needle size, thickness of fabric and of thread is selected incorrectly.
4. Lint and dirt is accumulated under a needle plate that can cause the skipped stitches also. Remove away a needle plate and clean a shuttle hook device.
5. Threading is not correct.
6. Hook tip must pass above (1 mm) the eyelet of needle and as close as possible (0.1 - 0.15 mm) to surface a scarf of needle. Remove away a needle plate and with magnifier check these two parameters. See more here: Sewing machine hook timing.
Sewing machine thread bunching (loops in seam)
1. The bobbin thread is wound not correctly. Don't wind the bobbin by hand. Uneven tightening a bobbin thread may be a reason of bunching (loop in seam under fabric).
2. Check how works thread tensioner. Lint and dirt can be accumulate betwen tension discs and prevent normal pressing an upper thread.
3. Top and bobbin thread tension is incorrect. Every time you start a new sewing project, you need adjust thread tension again (needle thread first). Lower thread is not recommended to regulate, except for cases of sewing very thin lightweight fabrics, like chiffon fabrics.
Fabric puckers when sewing
1. If thread tension is too, thin fabric during sewing will be tightened, as shown.
2. Pressing a fabric to feed dogs need to adjust depending on types of fabrics. Too strong pressure on thin and lightweight fabrics leads to apearing the fabric puckers.
3. The height of raising feed dogs teeth does not correspond to thickness of selected fabric.
4. The combination of needle size, thickness of fabric and thread is selected incorrectly.
5. Treading of sewing machine was done not correct.
Fabric doesn't move properly
1. Pressing a fabric to feed dog need to adjust depending of selected fabrics.
2. Height of raising feed dogs teeth does not correspond to thickness of selected fabric.
3. Surface of sole a presser foot is worn.
4. Needlle thread is tangled.
5. Teeth of feed dog are lower of surface of needle plate. Darning plate is installed.
6. Sewing thick fabrics and materials not intended for sewing on this model sewing machine. Sewing with leather, sewing of natural furs, sewing with jeans fabrics, etc.
Sewing machine breaks or bends needles
1. Do not pull a fabric with your hand while sewing. If sewing machine does not feed properly the fabric you need to adjust pressing it.
2. Needle is bent. Such bent needle falls on metal surface of needle plate and breaks. Be careful, pieces of needle can scatter in different directions. 3. Combination of needle size, thickness of fabric and thread is selected incorrectly.
4. Do not use needles that are designed for industrial sewing machines (with round shank).
5. A needle is inserted in needle bar incorrectly.
Sewing machine works noisy or slow
1. Blunt needle tip does not prick a fabric, but breaks it. Such blunt needle damages fibers of the fabric and creates additional noise.
2. Insufficient oiling. Don't forget regularly lubricate and clean your sewing machine.
3. Drive belt of electric motor is too tighten.
4. Sewing electric motor is worn out and needs replacement.
Sewing machine does not start (not turn on)
1. Power supply plug is removed from outlet.
2. Main power switch is turned off.
3. Foot control pedal works not correctly or it is damaged. 4. Bobbin winding shaft is moved towards a hand wheel.
5. Drive belt is broken.
6. Sewing electric motor is damaged, repair or replacement is required.

How a Sewing Machine Works
Learn how works a sewing machine. These knowledges can help you fix it in many cases yourself. Here is description of home model zigzag sewing machine.

Tips for Using your Sewing Machine
If you need to learn tips from tailor read this post. Here you find top tips and tricks how to use your sewing machine.

Vertical Rotary Shuttle Hook System
Sewing machines middle and upper class have a rotary vertical or horizontal hook system. Here you can read how works vertical rotary hook and tips for repair.

Tips for Choosing a Sewing Machine
How to choose your first sewing machine. A few key features of sewing machines you need to know necessarily.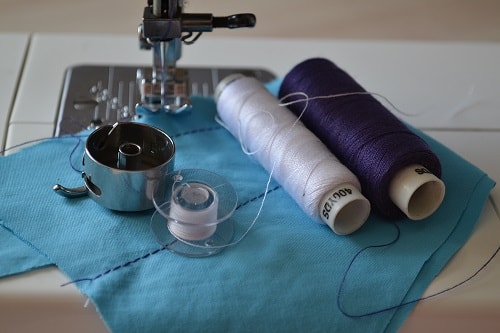 How to Thread a Sewing Machine
This is the universal tutorial for threading any sewing machines and winding a bobbin.

How to Use a Twin or Double Needle
Here's tutorial for how to use a twin or double needle. Using the double needle you can sew knit jersey fabric and some other decorative stitches.

How to Use an Overlock Sewing Machine
What a kind of stitch can do an overlock Janome 4057? Learn how to use modern model a serger and tips for choosing overlock sewing machine.

How To Use Computerized Sewing Machine
If you will buy a computerized sewing machine you get many sewing advantages. Here you will learn what features have the modern models of sewing machines.