How to Adjust Timing on Industrial Sewing Machine
The hook tip and a needle's eye on industrial sewing machine must be adjusted in time. From this parameter are depended appearance of many defects such as skipping stitches and breakage upper and lower threads, etc.
Note: Different types of sewing machines need a different process to set hook timing. Here you will find tips on how to fix a hook timing on industrial sewing machine that make straight stitch only.
For this article was used industrial sewing machine Textima 8332.
Bobbin case care and tension adjustment
Bobbin case of industrial sewing machine looks like bobbin case of home sewing machine having the vertical oscillating shuttle hook system. But there is one difference. Such a bobbin case does not have 'the finger'.
With this screw you can to change the tension of lower thread. Try to less often adjust the thread tension using this screw. And do not rotate the screw more than half a turn.
Bobbins of industrial sewing machines have one difference also. They are slightly thinner than coils for household sewing machines.
Industrial sewing machine works at high speeds and if a needle touches a wall of cap then it will be collapsed. Do not use damaged bobbin cases.
Note: Many models of industrial sewing machines have interchangeable bobbin cases.
To make a metal bobbin inside a cap rotate silently and easily I recommend place into bobbin case a gasket. This gasket you can cut from paper (plastic file) and add to it a drop of oil.
How to fix a hook timing
Remove a presser foot and a needle plate.
Tip: When removing any parts of sewing machine don't forget clean them of dust and dirt.
To make adjusting a hook timing more conveniently I recommend remove feed dog also.
Why does a top thread keep breaking ?
If your sewing machine keep breaking an upper thread I recommend look on this place.
This gap must be very small. But at the same time top thread must pass freely in through it.
Width of this clearance is regulated here, by this screw.
Place hook tip 1/16" above needle eye
For most sewing machines is used this rule.
Place hook tip 1/16" above a needle eye.
It is very difficult to set its size with a ruler.
Visually, this segment can be compared with size of needle eye.
Here is second parameter that can help you determine position of hook tip correctly.
Look at position of needle eyelet inside shuttle hook device. The eye of the needle should be clearly visible.
Tip of the hook should pass as close as possible to the needle (along scarf), but without touching its surface.
How to move shuttle hook tip
Movement of shuttle device along own axis and around own axis can be done after loosening these two screws that are mounted on shuttle body.
Note: These screws must be tightened well.
Note, that many models of industrial sewing machines have an ability to lower or raise sewing needle. To do this, you need to lift (or lower) a needle bar with needle together.
This industrial sewing machine (Textima 8332) has no such possibility and the sewing needle has only one fixed position.
Note that all industrial sewing machines have a round shank of needle.
Household sewing needles have a shank with flat side.
Be sure, that needle must is inserted until it stops. Then you need tighten a screw with a flat screwdriver well.

Tips for Choosing a Sewing Machine
How to choose your first sewing machine. A few key features of sewing machines you need to know necessarily.

Thread Tension Regulator of Industrial Sewing Machine
If you use an industrial sewing machine here you will find the tips on how to disassemble thread tensioner and thread you machine correctly.

Bobbin Case Device and Troubleshooting
Bobbin case is an important part of the sewing machine. Here you find device description and troubleshooting tips for problems of bobbin case.

Sewing Machine Problems and How to Fix Them
Each sewing machine has some problems periodically: bunching thread, breaking needles or skipping stitches. Learn how to fix sewing machine at home by himself.

Drafting Women's Pants Patterns (Basic)
If you will draft this pattern of women's pants you will have a basic pattern which can be used for drafting any models trousers, including the jeans and other.

Drafting Dress Pattern (Basic)
If you will draft your own dress pattern you need use this tutorial. Make this basic dress pattern which and you can to build patterns of any other dress models.

How to Draft the Half Circle Skirt Pattern
In this post you will find free skirt pattern with step-by-step tutorial on how to draft the half circle skirt pattern.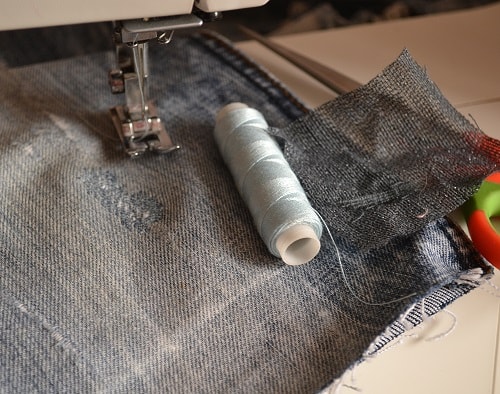 How To Mend the Rips in Denim Jeans
Learn how to patch the holes or rips in a pair of blue jeans in this step-by-step DIY denim repair tutorial.