Tips for Using your Sewing Machine
If you love sewing, create patterns and sew any clothes you should know how to use a sewing machine perfectly. Basic techniques for working on sewing machine can be found in user manual.
In this post I suggest read you a few tips and tricks how to use your sewing machine, tips that you will not find in sewing machine manual.
Read also: 20 Sewing tips and tricks for beginners.
Make first stitches by turning a handwheel
Start moving a needle down of sewing machine with turning a handwheel by hand. This will avoid mistakes and start stitching exactly at the desired point. The good habit is to do first stitches (1-2 stitches) by turning the flywheel manually.
Needle position and thread take-up lever
In any cases, you need start sewing when a needle is down, at bottom position near to fabric. In the same time a thread take-up lever should to be in highest position.
These positions of needle and a thread take-up lever is excluded an outputing a thread from needle eye.
Needle position when turning sewing
Keep a needle down into fabric while sewing corners, when turning sewing. This trick helps you to achieve good results when sewing around corners.
Note: Some sewing machines models have a button that switches a needle stop position.
Pay attention to condition and type of needle
Pay attention to condition and type of needles. Needle tip should be sharp. Form of needle tip need be fit to selected for sewing a fabric.
For sewing garments from knit/stretch/jersey fabrics is better to use needle having ballpoint tip. This rounded needle tip will not tear fibers of fabric and will pass between them without breaking them.
For sewing jeans fabric (denim) is needed use a special denim sewing machine needles, etc.
Tip: Before sewing a new project I recommend replace old needle on your sewing machine to a new one.
Bobbin threads thickness and its tension
Thickness of thread in bobbin should be the same or a little thinner than top thread.
Second rule: Try to regulate tension of bobbin thread as rarely as possible. Screwdriver can do a notch into slit a screw of bobbin housing. These sharp notches can be cause to thread breakaging.
Needle plate having seam allowances markings
All modern sewing machines have a needle plate having a few tiny parallel etched lines that mark a width of seam allowances. They will help you sew ideal straight line along fabric edge.
How to make an automatic buttonhole
Modern sewing machines can make buttonholes automatic. Look in your manual and read about the buttonhole system.
Try to do a few butonholes on scraps of fabrics first before make buttonholes in automatic mode on your garments. You need to adjust thread tension and height teeth of feed dog and foot pressure on fabric also.
Thread pull under presser foot sole
Before sewing on sewing machine is needed pull both ends of needle and bobbin threads under presser foot sole. Take them tails on your left hand and start sewing.
Medical syringe can be a good oiler
An usual plastic medical syringe (medium size) can be a good oiler. Remove a needle from the syringe and fill it with oil (suck in an oil). Next put a metall needle back. Now it will be an economical and convenientt oiler. With it is easy to oil any hard-to-reach mechanisms and nodes of sewing machine.
See also: How to clean and oil a sewing machine.
Plastic bobbin better glide into bobbin case
Plastic bobbin is lighter and it better glide into bobbin case. If your sewing machine forms a loop on bottom of stitch line, try this advice and change a metal spool on plastic one.

Tips for Using your Serger
If you have an overlock sewing machine you need learn these tips how to use a serger.

How a Sewing Machine Works
Knowing how to construct and work a sewing machine help you fix it. Here is home model of the zigzag sewing machine.

Serger vs Cover Stitch Machine
In this post examines in detail the main differences between a serger and coverstitch machine. Serger vs cover stitch machines.

Womens Short Sleeve T-Shirt with Bias Tape
This women's t-shirt has a few features. This is tutorial on how to sew women's t-shirt with 20 photos.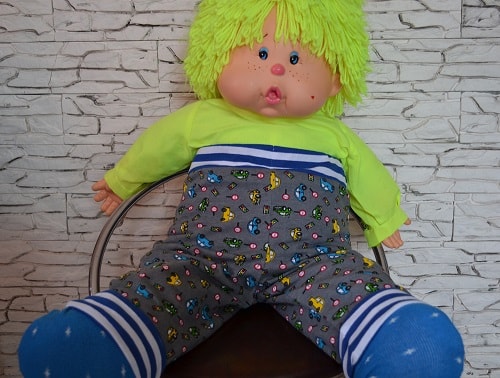 How to Make Children's Pants with Elastic Waist
Looking for knit pants for your toddler? Try sewing these knit pants with step by step tutorial that has more 20 photos and comments.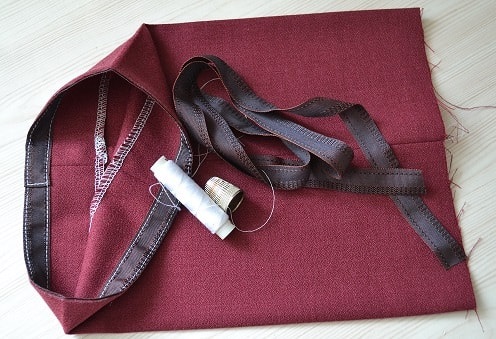 Learning how to hem your own pants and skirts
There are some ways how to sew up your hems. I offer you universal way that can use for hemming your pants and skirt or dress.

Cover Stitch Machine Tips and Techniques
Learn how to use coverstitch machine. Using the cover hem sewing machine is the best method to do hems on your knit fabrics.