Principal Parts of Sewing Machine
Basic construction of any sewing machines (for home) is analogous. The main difference is a way of controling a work of sewing machine. Old sewing machines have primitive mechanical manual control. Modern models have electronic control, some of them is controled with computer programs.
Nevertheless, all sewing machines have principal parts that are listed below and seen in photos.
Principal parts of entry-level machine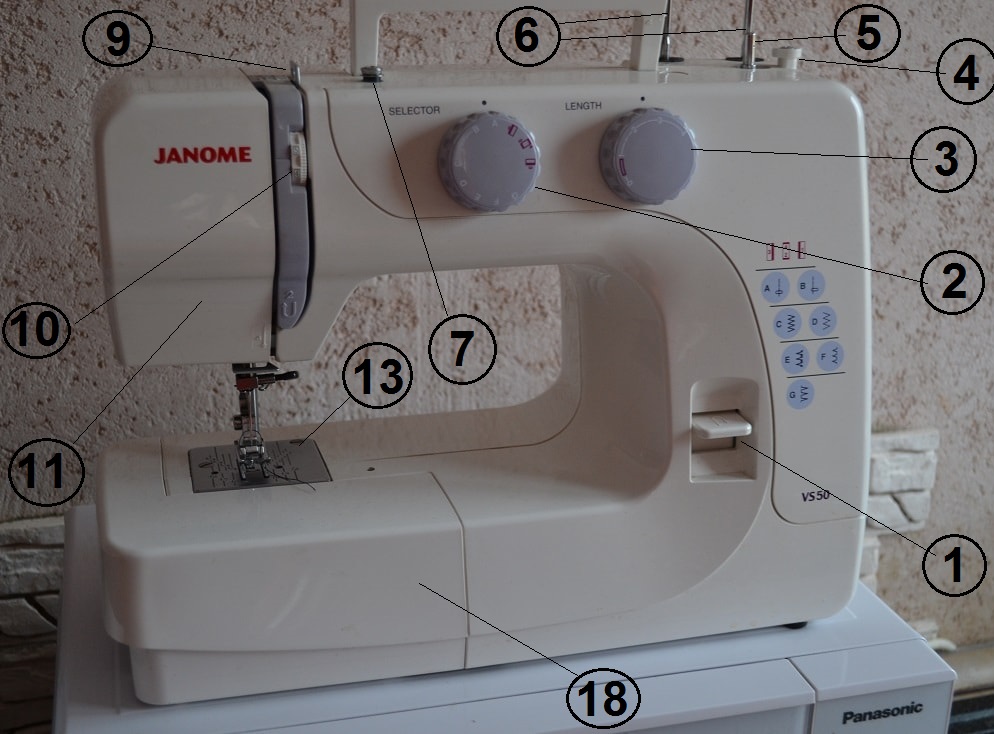 If you are beginner you need learn this getting started guide on your sewing machine having many color photos with comments.
1. Reverse sewing lever.
2. Pattern selector dial.
3. Stitch length dial.
4. Bobbin winder stopper.
5. Bobbin binder spindle.
6. Spool pins.
7. Bobbin winder thread guide.
9. Thread take-up lever.
10. Thread tension dial.
11. Front cover.
13. Needle plate.
18. Extension table with accessory storage.
Extension table
Extension table is a removable/free arm sewing bed that can remove if you simply 'pop' it out of place.
Using an extension table you can sew circular items, like hems and cuffs.
Note: There are also accessory extension tables you can use with your machine. Some sewing machines have more comfortable folding tables, like Juki sewing machine old model.
Bobbin winder device
Tip: Wind thread on bobbin at a medium speed.
Notice that some bobbin winder devices have such oval plastic stopper near shaft for inserting a bobbin. It is needed for adjusting a fullness of your bobbin.
Reverse lever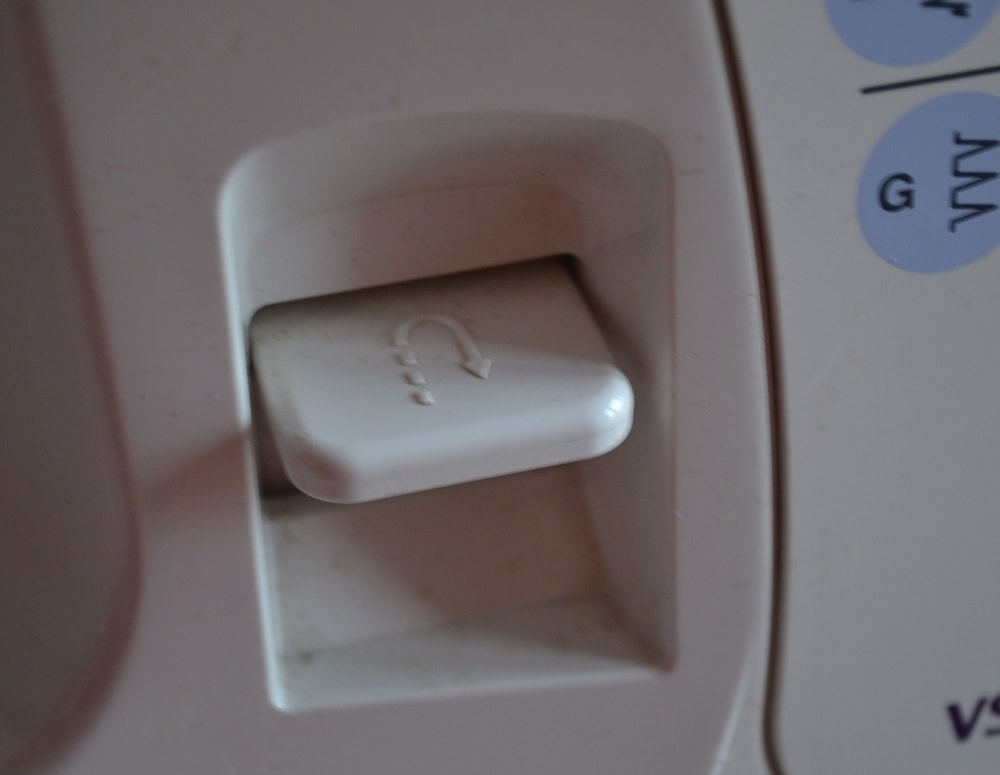 Reverse lever (or button) have almost all sewing machine except for very old rare models.
Using this reverse device is needed for making back stitch. Back stitch is used for fastening seam ends, is used during sewing any projects.
Parts of entry-level machine - back view
19. Built-in handle.
20. Hand wheel.
21. Power stitch.
22. Foot controller jack.
23. Free arm.
24. Presser foot lifter: This lever attached to a presser bar for raising and lowering the presser foot.
Sewing machine foot control pedal and others
Handwheel is used to perform initial stitches manually. Flywheel is used for turn on a bobbin winder device also. To turn on the winder you need press or pull out the wheel (depending on the sewing machine model).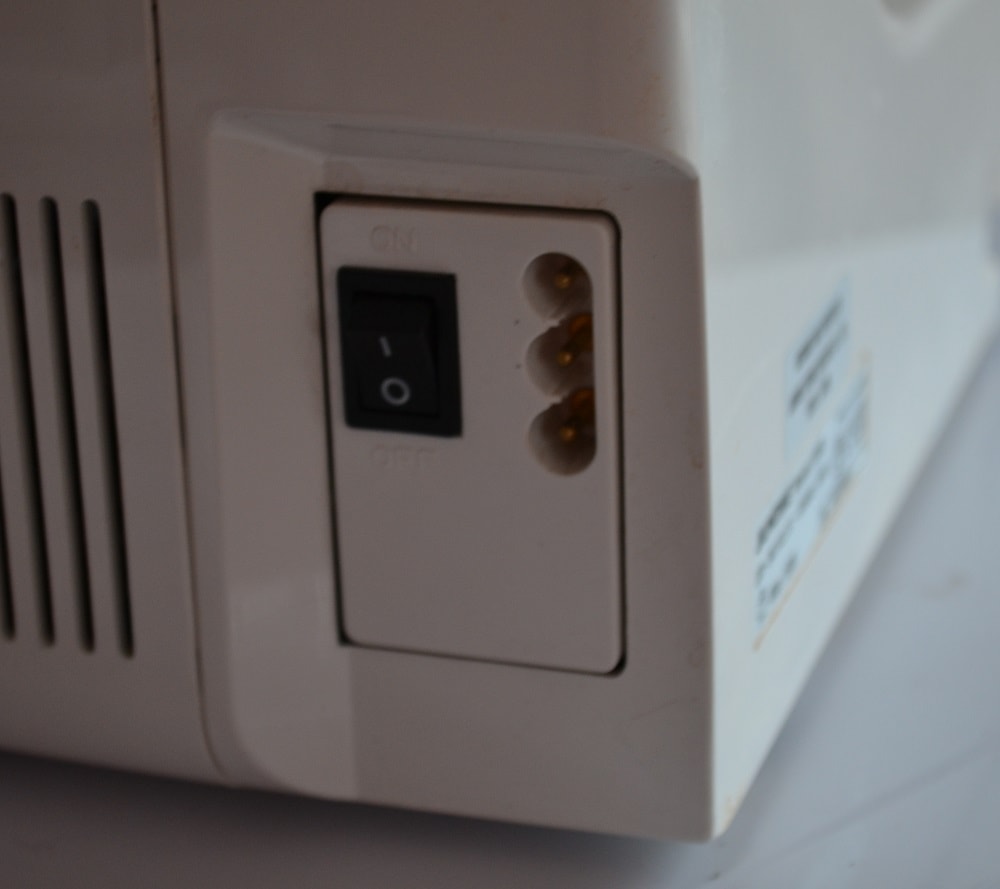 Before sewing you need insert pedal plug into a foot controller jack and turn on a power switch of sewing machine.
Sewing machine foot control pedal is used for control a sewing machine speed. Be wary, do not press the pedal sharply and don't work on high speed.
Presser foot and needle bar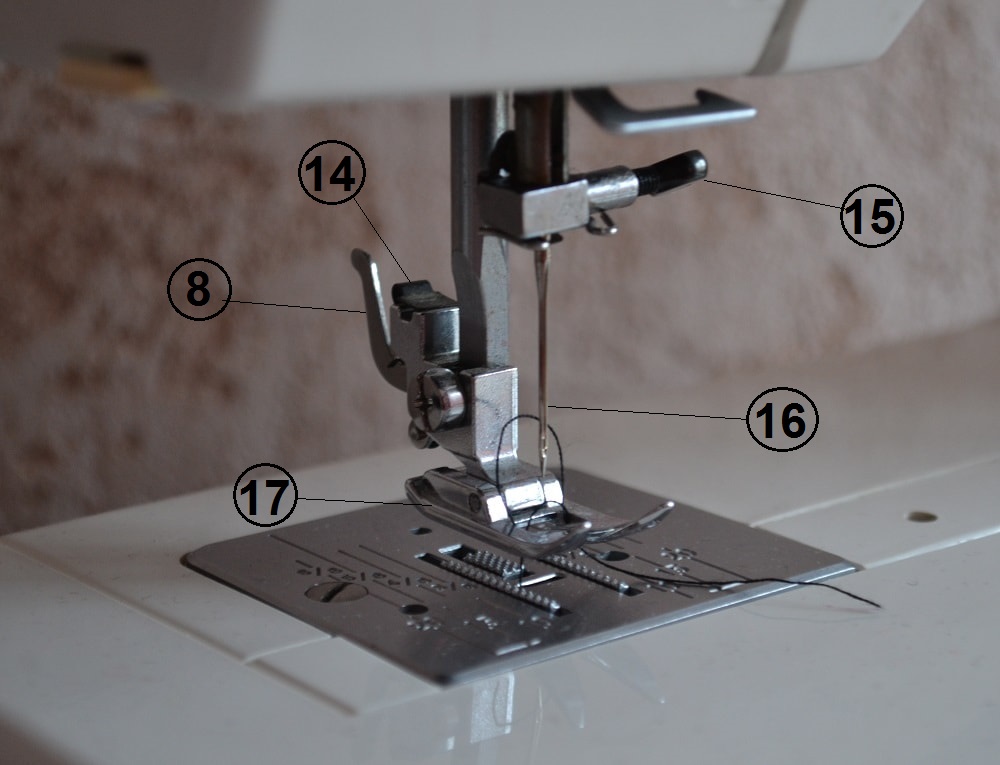 8. Presser foot release lever.
14. Presser foot holder assembly.
15. Needle clamp screw.
16. Needle.
17. Presser foot.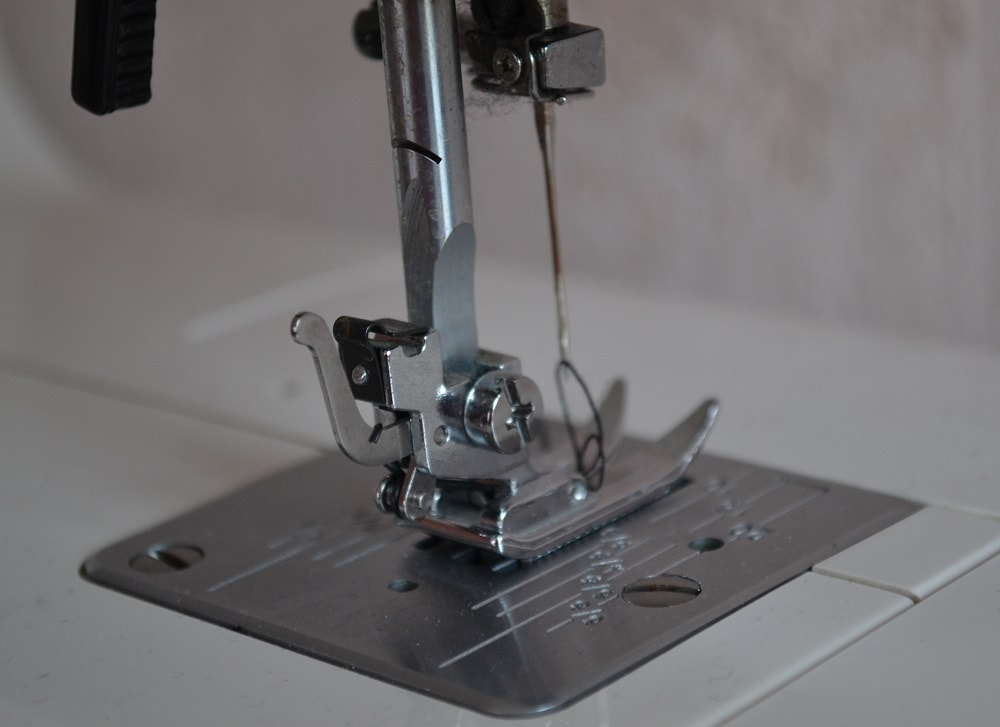 There are many presser feet that you can use for performing various technological sewing operations and stitches. For example, using a zipper foot you can perfect install an invisible zipper on you skirt or dress.
Using a special presser foot you can sew automatic buttonhole etc.
Sewing machine parts under front cover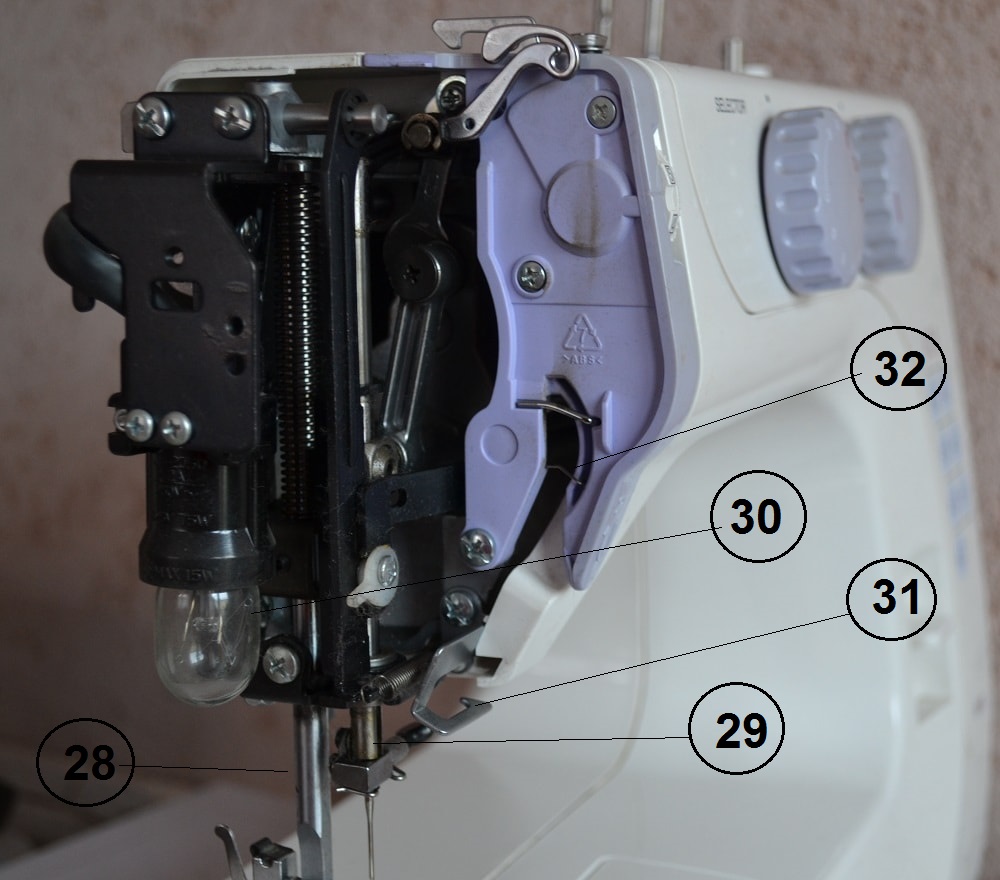 28. Presser foot bar.
29. Needle bar: This is a steel rod to hold a needle. To fasten it in needle bar slot is used a clamp. Needle bar's main function is to hold a needle and to give motion to a needle.
30. Light bulb.
31. Thread guide: It holds top thread in position from spool to a needle.
32. Tension check spring.
Shuttle hook device
25. Bobbin case.
26. Shootle hook device.
27. Frond loading bobbin cover.
For front loading bobbins, you need remove extension table with accessory storage compartment. Then you can to reveal a flip-down cover and insert the bobbin case.
Note: Most modern sewing machines have top loading bobbin with clear clip-in cover on the needle plate.
This type of bobbin case have most inexpensive entry-level sewing machines and old sewing machines like Singer.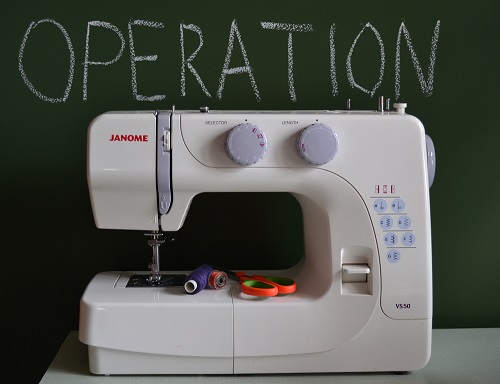 Operating Your Sewing Machine
If you are beginner you need learn this getting started guide of operating instructions and operation basics your sewing machine.

How a Sewing Machine Works
Here is the tutorial how to construct and work home model of the zigzag sewing machine.

Vertical Rotary Shuttle Hook System
Sewing machines middle and upper classes have a rotary vertical or horizontal hook system. Here you can read how works vertical rotary hook and tips for repair it.

Tips For Choosing A Sewing Machine
A few key features of sewing machines that you need to know necessarily.

Bobbin and Top Thread Problems
If your sewing machine keeps breaking top or bobbins thread this tutorial help you troubleshoot these problems.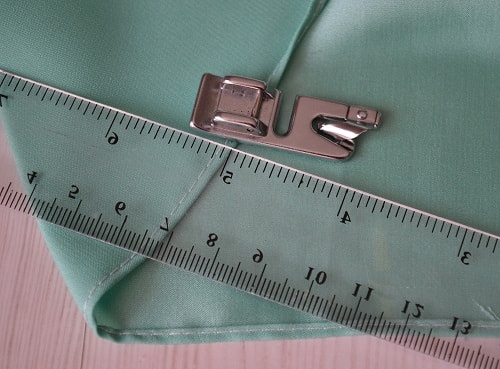 Rolled Hem Presser Foot Tutorial
Using the rolled hem presser foot you can hem thin fabric easily. The tutorial has 10 photos with pro comments.

Tips for Using a Serger
If you have an overlock sewing machine you need learn these tips on how to use your serger. All tips are from a professional tailor.

Tips for Using your Sewing Machine
If you need to learn tips from tailor read this post. Here you find top tips and tricks how to use your sewing machine.