Sewing Terms Starting with Letter F
If you want to learn sew you need to know and understand a lot sewing definitions and terms. Here is a dictionary of sewing terms and terminology.
All terms and definitions are explained by professional tailor. To all terms, in addition to the description, is attached photo image.
F
Facing
Facing term means sewing (a bias tape) around neckline, armholes etc.
Feed dog
Feed dogs teeth are needed to move fabric during sewing. To move fabric is needed a presser foot also. It presses the fabric to the teeth of feed dog. The result is that the fabric is pulled forward in small steps.
Flat Button
Flat buttons are recommended to sew with a "leg". Lift a button up and wrap thread stitches, as shown. It definitely need to do if you sew flat buttons by hand to coat, jacket, etc.
Flat Seam Stitch
Special coverstitch machines can make special flat seam stitches only. Cover stitch, also called flat seam stitches, can be seen on your T-shirt hem.
Flounces
Flounces most are used for decorating of blouses. Flounce is a strip of fabric that is gathered or pleated.
Foot Pedal
Foot pedal is main part for control a sewing machine speed. Note: Some models of sewing machines do not have the foot pedal. The machine speed is regulated with a few knobs (manually).
Never open an electrical appliances themselves. But if you're curious, you can look at what is inside pedal.
Foot Pressure Adjustment
To move fabric correct, presser foot of sewing machine must have proper pressure. Different models of sewing machines have different devices of foot pressure adjustment.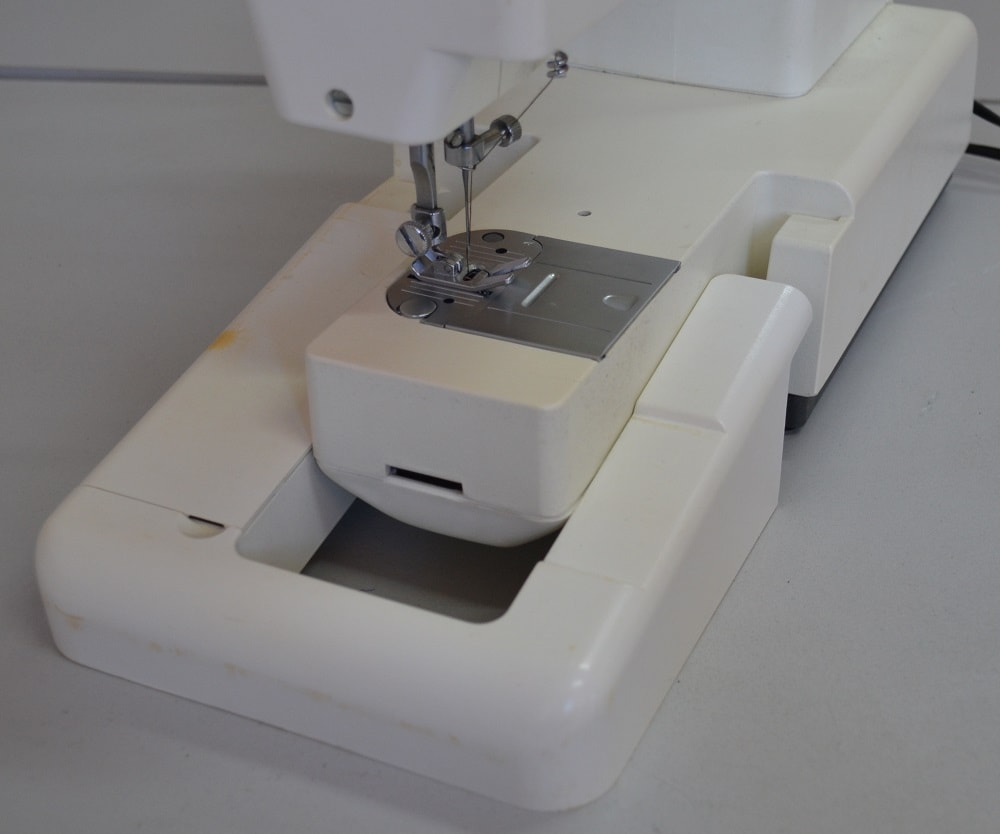 Free Arm
Most of modern home sewing machines have a free-arm that used for sewing around tubular details (sleeves etc.). Sleeves or trouser legs are sliding onto narrow working place of sewing machine.
French Bias Binding
There are some ways how to make bias binding and add this bias tape around neckline or armholes. French bias binding is one of them. This topstitching method used for binding sheer and lightweight fabrics.
Fur Hood
Fur hood is decorative element that is attached along edge of hood jackets.
Fur Sewing Machine
Fur sewing machine is designed for stitching natural furs. Fur sewing machine is used for sewing of fur coats, fur hats and shoes.
Terms starting with Letter:
A
B
C
D
F
G
H
I
J
K
L
M
N
O
P
R
S
T
W
Z
See also:

Sewing Terms and Definitions with Pictures